Breaking Down The Best Cheese Slicers Available Today
Simply Healthy Family may collect a share of sales or other compensation from the links on this page.
Everybody loves cheese. Almost all of the dishes we prepare on a daily basis has cheese as one of the main ingredients. Who doesn't want to have that elegantly sliced cheese on their gourmet recipe? Sometimes, even the most expensive kitchen knife is just not cut out for some specific cheese slicing requirements. Having the best cheese slicer along with your trusted kitchenware would help you achieve perfection in every dish you've prepared.
Related Reading || The Search For The Best Watermelon Slicer: A Detailed Review
Health and Ease
Although cheese is relatively easy to prepare, there are some recipes that would require you to have specific slices and shreds of cheese. Without tools to accommodate that, people scour grocery shelves for specifically sliced cheese packs. Most of the pre-sliced cheese, aside from being pricy, are also unhealthy with the addition of to preserve the cheese in its texture and form.
There are people that prefer the traditional method of cutting cheese, which is with the kitchen knife. This might work for some instances, but there would be times that a knife would hardly be able to accomplish your desired cut. In addition to the risk of being cut, using a knife to cut cheese also contributes to its dullness, wear, and tear.
Knife vs. Cheese Slicer
Safety
The primary concern of slicing cheese is safety. When you think about slicing cheese like you do every morning at breakfast, maybe you don't picture the risk of getting cut. But slicing cheese is not always that easy, especially for those that are in the baking or catering business where slicing cheese is in volumes and in specific dimensions depending on the demand. When there is a specific volume that is needed to be done on a deadline, chances are safety is being compromised for speed. Another risk of getting injured is during cleaning. You would have to have direct contact with the sharp blade of the knife to thoroughly clean it.
Time and Volume
Since slicing cheese with a cheese slicer would be easier, cuts can be done a lot faster. There are less hand movement and force to use in every cut. There will be no need to spend time on measurements to make multiple similar cuts.
Precision and Consistency
With a cheese slicer, the thickness or thinness of a slice can be adjusted with ease. The best thing about it is that you can slice specific thickness multiple times without worrying about inconsistency. With a knife, it is difficult to get a specific thickness done, more so duplicate it.
Knowing Your Cheese
Before setting off to grab a cheese slicer, you may want to know the type of cheese you frequently have. Understanding your cheese will help you determine the perfect cheese slicer to slice it with.
Soft Cheese
This type of cheese includes our popular cream cheese Boursault and Brie. Best-served spread with hot toasts.
Semi-Soft Cheese
Examples of these cheese are Havarti and Munster. This type of cheese has mild taste and has high moisture content. It is also best-served spread.
Medium Hard Cheese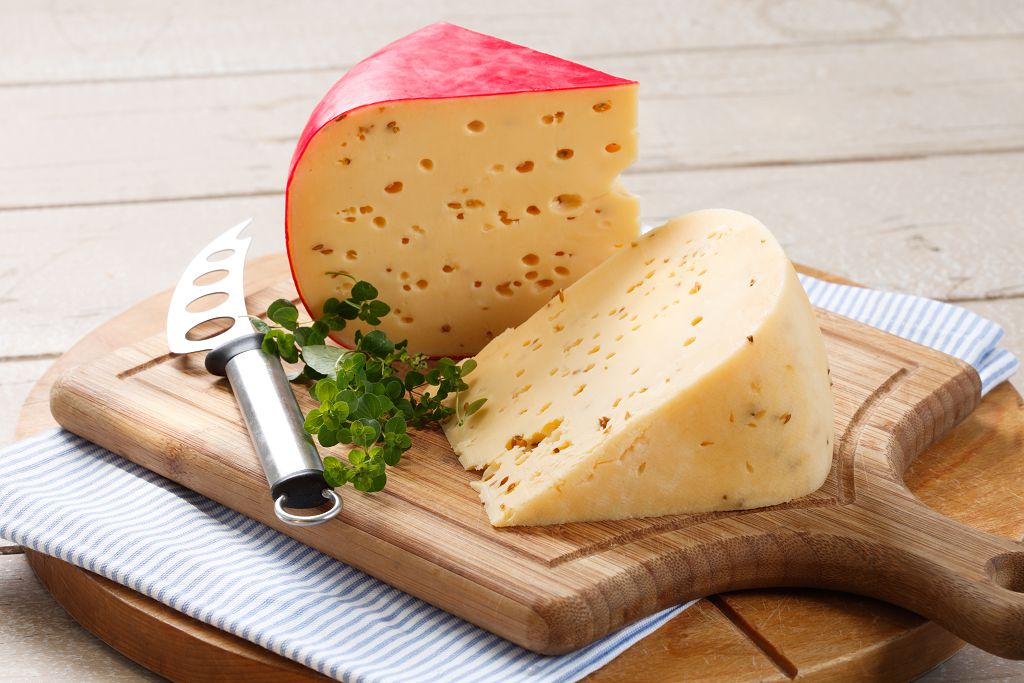 This cheese type is popular with the holes on its body like "eyes". Gouda and Emmental cheese fall under this category. It has a strong aroma but mild taste, perfect to serve with hot bread or toast for light cheese snacks.
Semi Hard Cheese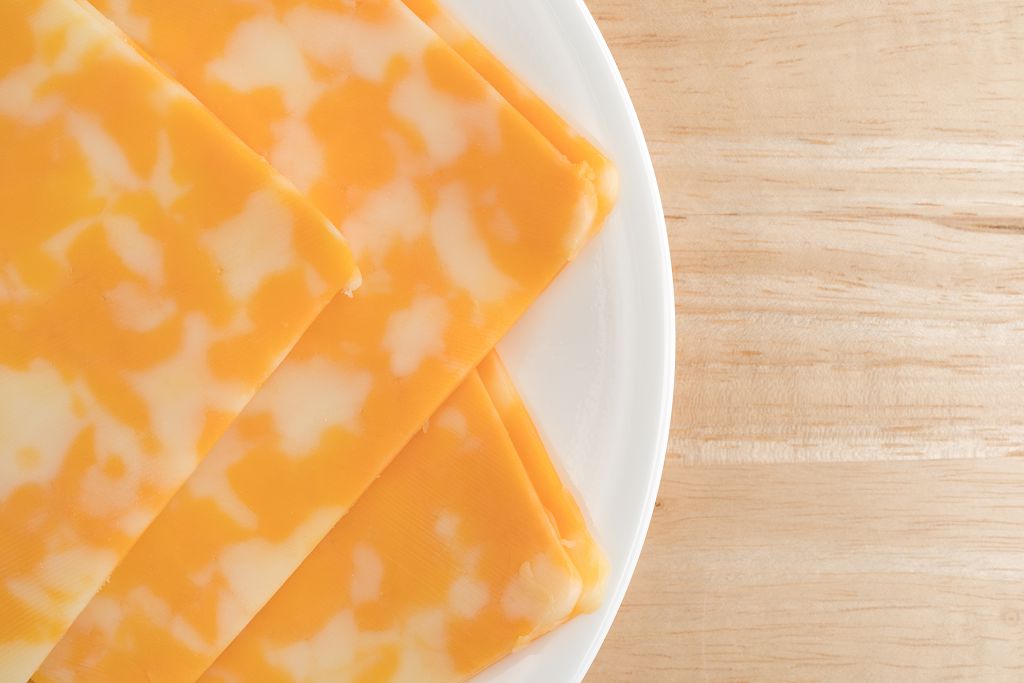 Cheddar, one the most popular cheese types, falls in this category. Its hard texture is due to its lesser moisture content, pressurized packaging and a longer period of aging.
Hard Cheese
Parmesan and Pecorino Romano cheese falls under the category. Although best for grating, this type of cheese are served in various ways because of its flavor-enhancing effects on food.
Types Of Cheese Slicer
Now we can discuss the types of cheese slicer and what types of cheese are best to use it for.
Rolling Cheese Slicers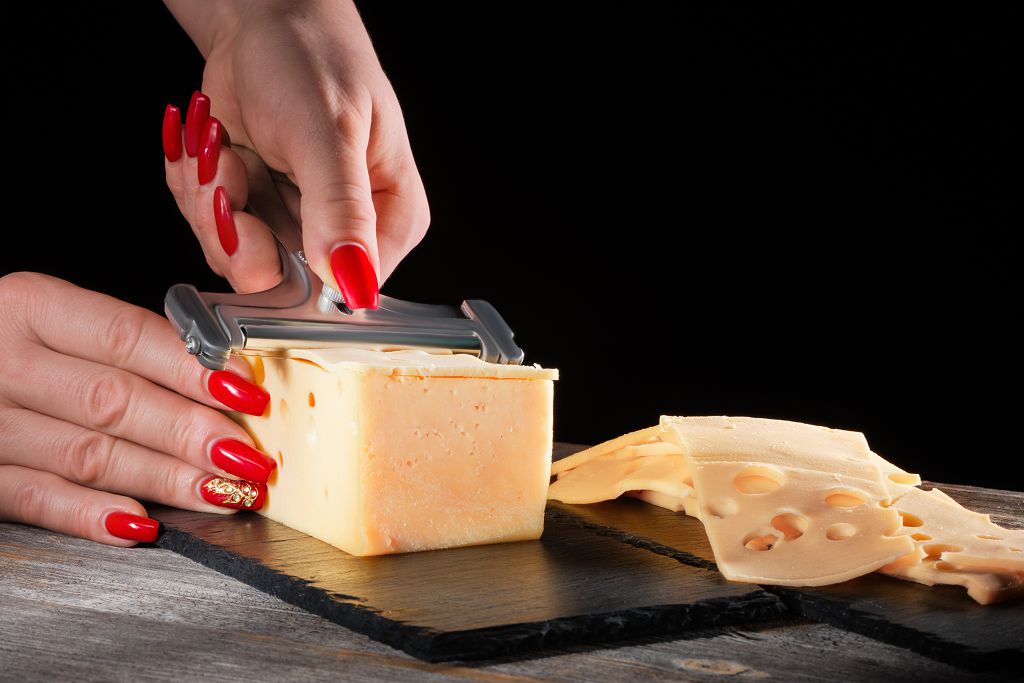 This type of cheese slicer consists of a roller and a wire that acts as the blade that slices the cheese. They are held by two posts attached to a single shaft body. Rolling cheese slicers have adjustable rollers which are allowed cutting in a variety of thickness. It is also popular for its compact size, making it ideal for outdoor activities.
This cheese slicer is best for soft to semi-hard cheeses. Since soft cheese has a coarse texture, cool it down to make it less dense and easy to cut. For semi-hard cheese, warm it up a bit to make it softer and easier to cut.
Wire Cheese Slicers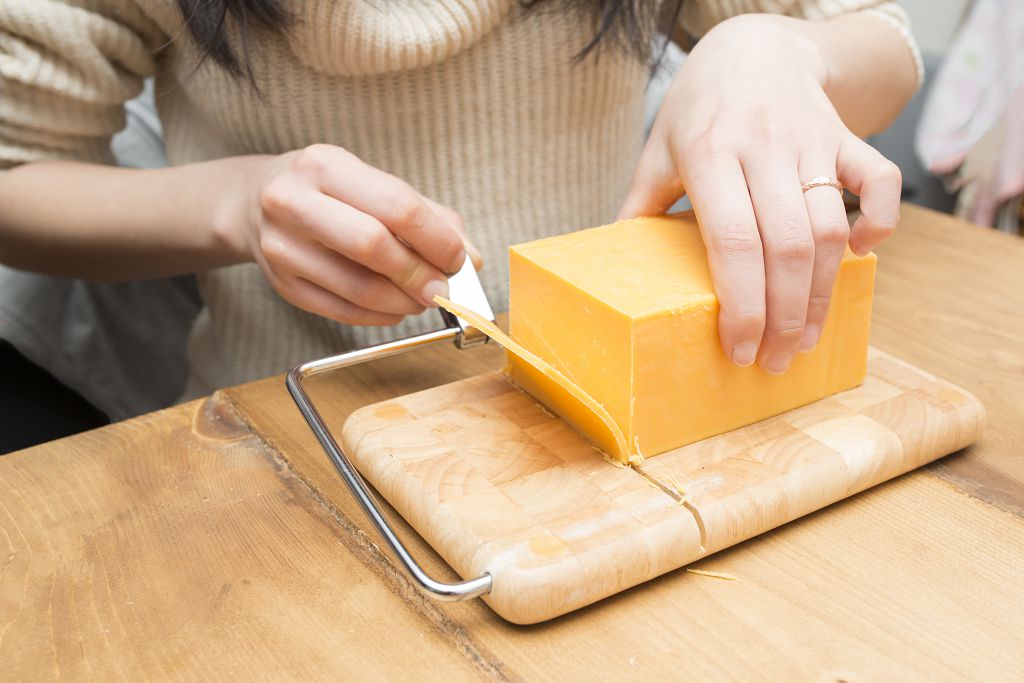 A wire cheese slicer would look like a chopping board with an arm and a wire. This design allows it to cut through large blocks of cheese with precision and ease. While its huge frame makes it impractical for picnics, it can provide additional aesthetic value to your stacked up kitchen.
This cheese slicer is ideally best for semi-soft to semi-hard cheeses, but it can also cut through hard cheese depending on the wire installed.
Plane Cheese Slicers
This type of cheese slicer is like a small shovel or a large flat spoon. It has a handle attached to a sharp, flat edge that is used for cutting. Its sturdy make allows it to be apter in slicing hard cheese. Although, due to its limited width, it can only cut through parts of the cheese. This type of cheese slicer is not ideal to use for soft cheese.
The best cheese slicer available on the market today
Here is our take on the best cheese slicer available on the market today
#1. Bellemain Adjustable Thickness Slicer
https://www.amazon.com/Bellemain-Adjustable-Thickness-Cheese-Slicer/dp/B018MLW8MG/
This cheese slicer is durability, elegance, and precision rolled in one. You can rely on its zinc alloy stainless steel frame to stand the test of time. It even includes a replacement wire and a one year warranty.
Its main feature is its adjustable roller which allows it cut seamlessly make paper-thin slices. Its elegant design makes it a perfect complement to your top tier kitchenware collection.
PROS
Adjustable slicer allows to cut blocks up to 3 ½ inches wide and make paper-thin slices up to a quarter of an inch.
Zinc alloy frame lasts long, sturdy, and gives it a classy elegant look.
Comes with replacement blades and a 1-year warranty.
CONS
Misuse of the slicer may break the wire.
Getting the perfect slice needs getting used to.
#2. Prodyne 805B Thick Beech Wood Cheese Slicer
https://www.amazon.com/Prodyne-805B-Thick-Cheese-Slicer/dp/B00004S1DU/
This cheese slicer comes with a lifetime warranty, adding great value for money. It has a non-slip rubber feet that secures the board to any surface and protects your kitchen counter surfaces against scratches. The beech wood board, though barely scratch proof, is beautiful despite its somehow rough surface. Its built can accommodate large blocks of cheese and slice it with precision
PROS
Lifetime warranty on wire makes it assuring to purchase.
Wide dimension allows slicing of large blocks of cheese with ease.
Non-slip rubber feet prevents surface scratches and keeps the slicer in place.
CONS
Beech wood board is rough and has a poor finish.
Adjustments with centering are needed to achieve perfect results.
#3. Norpro Heavy Duty Adjustable Cheese Slicer
https://www.amazon.com/Norpro-Heavy-Adjustable-Cheese-Slicer/dp/B000HMB0IM/
With its zinc alloy frame and adjustable wire, this cheese slicer is capable of slicing most types of cheese with precision and ease. The pack comes with a replacement wire ready when needed.
The good thing about it is that it is dishwasher safe, and also hand-washable. The metallic design makes it look good with all your shiny kitchenware.
PROS
Sturdy Zinc Alloy frame makes it durable and last longer.
Replacement wire included in the pack ensures optimal usage.
Adjustable roller frame allows you to make customized and even slices.
It is safe and can be thoroughly cleaned through hand wash.
CONS
The wire tends to get loose when used with hard cheese.
The Installation of replacement wire is difficult.
#4. Fox Run 3841 Marble Cheese Slicer
https://www.amazon.com/Fox-Run-Marble-Cheese-Slicer/dp/B0000VZA2W/
The board made in marble, this kitchenware provides high aesthetic value to your kitchen. But is it more than just looks. The 8×5 inch board keeps the cheese cool and is wide enough to accommodate huge blocks of cheese. Its stainless steel wires are apt in slicing all kinds of soft and hard cheese without hassle. Providing support and countertop protection is its four non-slip rubber feet.
PROS
Marble board keeps the cheese cool, eliminates cheese residue and prevents mold from forming
Stainless steel wires are sturdy enough to cut through hard cheese with ease.
Includes two replacement wires for maximum use.
Its four non-slip rubber feet provides support and prevents scratches.
CONS
Some units arrive with the wires or handles damaged.
There is no instruction on how to install replacement wires.
#5. Westmark Germany Multipurpose Steel Cheese and Food Slicer and Board with Adjustable Thickness Dial (White)
https://www.amazon.com/Westmark-Multipurpose-Stainless-Adjustable-Thickness/dp/B004W7GRG8/
Carrying the Westmark Germany trademark, this cheese slicer does not disappoint. Not only can it slice with precision soft to hard cheese, it can also cut other food items such as sausages and some vegetables. Its top tier stainless steel blade, high cast aluminum handle and ABS board come with a five-year warranty, adding value and assurance.
PROS
It is made with high-grade materials, from the stainless steel blade, aluminum handle, and ABS board.
Five-year money back guarantee makes it a nonrisky purchase.
Multi-purpose cutter makes it great to slice other food items.
Adjustable thickness scale allows you to make customized slices.
Easy to clean with soap and water.
CONS
Not great for soft cheese as it crushes it instead of slice.
There is nothing to secure the cheese block with to make consistent and even slices.
THE VERDICT
The best cheese slicer on this list would be the Fox Run 3841 Marble Cheese Slicer. The elegant marble design makes it stand out. Not only does it look good in the kitchen, but it also helps in making good cheese slices by cooling the cheese, making soft cheese-less dense, avoid getting crushed and easier to cut.
With a sturdy wire slicer that can cut through the hardest of cheese, the Fox Run 3841 Marble cheese slicer will be the only one that you will need for all of your cheese slicing activities.
Wife, Mom of 4 and so much more living in the Sonoran desert. I am passionate about making meals and snacks healthier without sacrificing flavor! I promise you that if you buy healthy foods and make healthy foods, YOUR KIDS WILL EAT HEALTHY FOODS! My motto: Live as naturally as you want to feel.