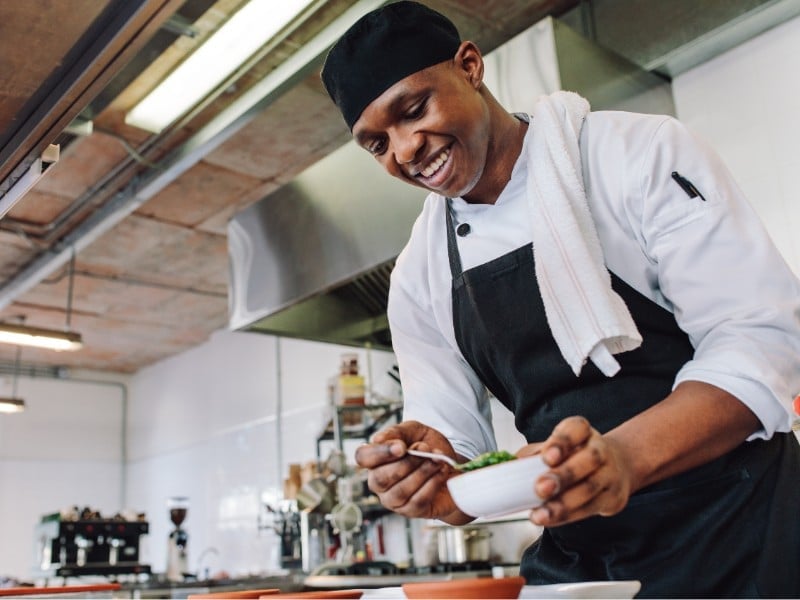 Simply Healthy Family may collect a share of sales or other compensation from the links on this page.
Teppanyaki and hibachi restaurants are Japanese restaurants that grill the food over an open flame in front of customers. Customers enjoy going to these restaurants to watch chefs prepare their fresh food. Customers can also witness the impressive skills of the chef making their food.
Japanese Restaurants Where They Cook in Front of You
Finding Japanese restaurants that cook in front of you can be difficult, but chain teppanyaki and hibachi restaurants like Benihana and Shogun can be found across the United States.
Benihana: Across the US
Benihana is one of the most famous hibachi chain restaurants, with locations all over the United States. This restaurant, founded in 1964, was one of the first places that brought hibachi and teppanyaki to the United States.
The chefs at Benihana cook the food on a hibachi grill, in front of the customers, and impress the guests with speedy, expert knife tricks.
Benihana's popular dishes include:
Hibachi Chicken — $20.70
Hibachi Shrimp — $25.60
Filet Mignon — $27.40
Hibachi Tuna Steak — $25.20
Hibachi Chicken Rice — $4.20, $8.40, or $16.80 (depending on size)
Despite Benihana's popularity, some people find the food less authentic than traditional Japanese hibachi food. Benihana is also more expensive than other restaurants, so it may not suit customers on a budget.
Shogun: Across Southern California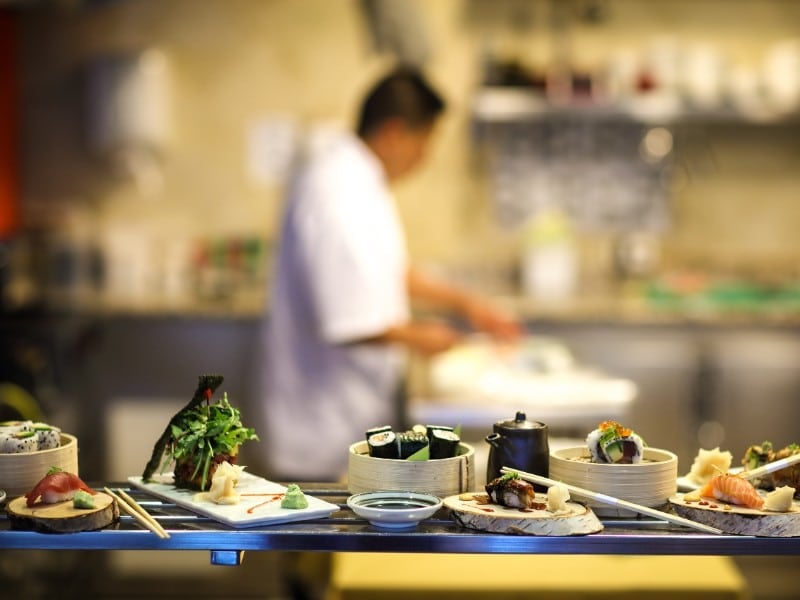 Shogun Japanese Grill & Sushi Bar is a teppanyaki and sushi restaurant chain with various locations across Southern California. This restaurant is popular because of the unique dining experience it offers and the ability for guests to watch their food being made.
This restaurant's popular dishes include:
Teriyaki Chicken — $24.95
Filet Mignon — $34.75
New York Steak — $20.25-$23.50
Half Roll Trio — $22.95
Although Shogun is a popular restaurant chain, not everyone enjoys it. The restaurant is more expensive than most restaurants, so it's not ideal for people on a low budget. Many of Shogun's popular dishes are meat-based, so this restaurant may not be as popular with vegetarians and vegans.
Sakura Japanese Steak, Seafood House & Sushi Bar: Across the US
First established in 1988 by Marc Ha, Sakura Japanese Steak, Seafood House & Sushi Bar originally opened in Fredericksburg, Virginia, before opening locations across the United States.
This Japanese hibachi restaurant offers a range of teppanyaki dishes as well as sushi and steak. Customers enjoy the high-quality ingredients and the option to watch their food be cooked live by expert chefs.
This restaurant's popular dishes include:
Scallops — $30.95
Filet Mignon — $32.95
Lobster — $40.95
Shrimp and Chicken Combo — $26.95
This popular restaurant may not be popular with vegans and vegetarians because the menu is mostly based on meat and fish. This Japanese eatery is also quite expensive.
Teppanyaki Vs. Hibachi
Teppanyaki and hibachi are similar styles of cooking, both originating from Japan, that grill food over an open flame. Both styles are used in restaurants that cook in front of guests, such as Benihana and Shogun restaurants. However, there are a couple of key differences.
A hibachi is a small, cast iron, open-grate, charcoal barbecue grill used for cooking Japanese food. Modern hibachis are electric.
Teppanyaki refers to a style of grilling that uses an iron griddle with a flat surface to prepare food in front of restaurant guests. Teppanyaki grills tend to use a propane grill as their source of heat.
Restaurants where chefs cook and do tricks in front of you include:
Benihana (across the US)
Shogun (across Southern California)
Sakura Japanese Steak, Seafood House & Sushi Bar (across the US)
Sakura Teppanyaki and Sushi (California)
Arirang Hibachi Steakhouse and Sushi Bar (New York)
Nikko (New York)
Flame (New York)
Asian Restaurants & Chains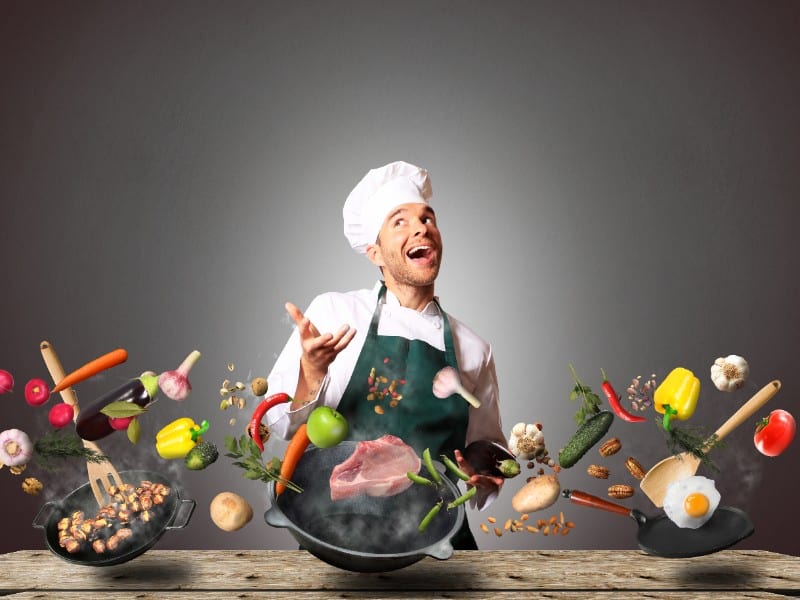 Teppanyaki restaurants are not available in all areas of the United States, but there are other Asian restaurant chains that can provide a similar fun experience:
Gyu-Kaku Japanese BBQ, across the US and Canada ($$): A hibachi restaurant with a twist. Instead of the chefs cooking the food live in front of you, you can cook the food yourself on a charcoal grill. There are Gyu-Kaku locations all across the US and also in Canada
Dons Bogam Wine Bar & BBQ, New York City ($$$): Another hibachi restaurant, but it specializes in Korean food, not Japanese food. This high-end restaurant is known for its Korean beef. Menu specialties include pork belly and lobster tail
Kura Revolving Sushi Bar, across the US ($$): This restaurant is well-known for its handmade sushi that makes its way to customers on a conveyor belt. Kura offers traditional sushi dishes including tuna rolls and shrimp avocado rolls
Haidilao, across the US ($$$): This restaurant is known for serving delicious, authentic Chinese hot pot. Haidilao is an international chain that currently offers restaurants in the USA
Okinii Japanese Restaurant, New York ($$$): A laid-back Japanese restaurant specializing in sushi, sashimi, and maki