The 4 Best Ways to Reheat Fried Chicken and Keep It Delicious!
Fried chicken has a long and interesting history. It's believed that fried chicken have originated in Scotland or West Africa but has always played a big part in American history, especially the Southern states.
Over time recipes have changed and now there's so much variety when it comes to seasoning and tastes. It's the holy grail chicken in our humble opinions.
It works with so many dishes and when cooked right can be crispy happiness in a bite. Can you tell we're obsessed?
Fried chicken is one of the many favorites when it comes to finger foods. We even sometimes cook so much that we end up have lots of left overs. But that's not a sad thing.
Leftover fried chickens can be our snack the next day with just a few simple steps.
Find out some of the ways of how to reheat fried chicken without compromising a lot of taste, texture, and crispiness.
Related Reading: The Best Way to Reheat Ribs and Keep Them Delicious! – 5 Method
Best Way to Reheat Fried Chicken
There are lots of ways to reheat fried chicken but knowing the best ones is key because we know it can be hard. People can often make the mistake of ruining the skin by cooking it the wrong way.
We did our research and tested a lot of fried chicken (a lot).  Lucky for you we documented our fried chicken journey and we've put together a list of the best ways to warm up fried chicken so it stays crisp and tastes good the next day, or the day after that, or the day after that.
Method 1 – Using The Microwave to Reheat Fried Chicken
We'll start with the least popular method, but the quickest. Microwaving fried chicken is the best way to save time and is perfect if you need to rush out the door but want your chicken first.
It can be difficult for the chicken to retain its crispiness but fear not because there is a way. Super handy to reheat popeyes chicken and any leftover takeaway chicken.
What you need – All you need for this method is fried chicken, a microwaveable plate and a towel.
How to reheat fried chicken using microwave – Step by step guide
Take your chicken out and leave sitting for a few minutes, 10 to 15 minutes usually does it, but it can be left for any time over 10 minutes.
This will stop it losing any moisture and keep the chicken nice and tender.
Then put your fried chicken on the plate and cover with a towel.
The towel is the key if you don't want your chicken to go soggy.
Heat at 30 – 35-second intervals until the chicken is warm all the way through.
Pro & Cons – This is the fastest option, so is ideal if you're in a rush but the chicken won't be as crispy as other methods on the list if you decide to use a microwave and we would generally tend to recommend not reheating in a microwave. But we understand when needs must.
Top Tips – For this method make sure to always use a towel, it's the best way to make the chicken taste as good as it can. Don't leave the chicken in the microwave for too long either, this can really dry it out. Which let's face it, nobody wants.
Method 2 – Convection Oven to Reheat Fried Chicken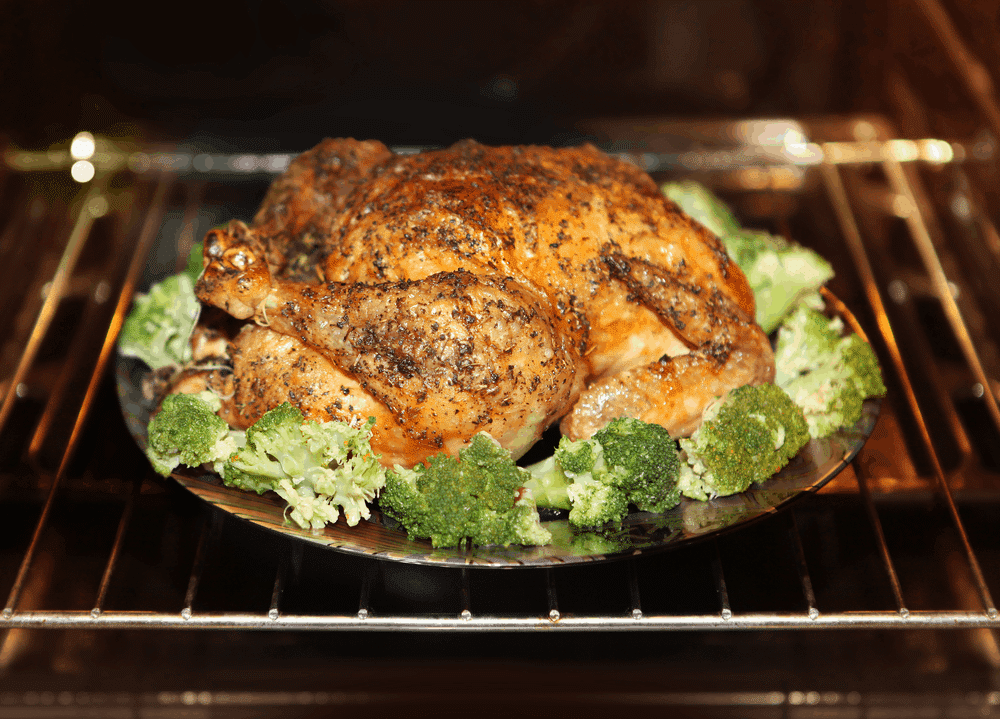 Using a convection oven is a great way for your fried chicken to taste like it just came out of the oven the first time.
Convection ovens are extremely popular for reheating fried fried chicken food because of how well they keep the skin crisp and the taste great.
What you need – a baking tray and aluminum foil
Reheat fried chicken in oven – Step by step guide
Heat the convection oven to 350° F and line the baking tray with foil.
Take your chicken out and leave to stand at room temperature when the oven is heating.
Once the oven is hot pop the fried chicken in for 15 to 20 minutes, depending on the size of the chicken pieces.
When the chicken is cooked to 165° F all the way through it is safe to eat.
Leave to stand for 5 minutes, check for crispiness. If you're happy with it, dig in!
Pros & Cons – This method is great for keeping the pieces crispy and fresh but it can be difficult to know if the chicken has been cooked all the way through so keep a close on it when it is in the oven.
Top Tips – This really is the best method if you want to keep that chicken crispy. Just make sure the oven is hot before you put the chicken in the oven. If the chicken is put in before the oven is at the perfect temperature it can make it difficult to time correctly and the chicken might come out uncooked.
Method 3 – Air Fryer to Reheat Fried Chicken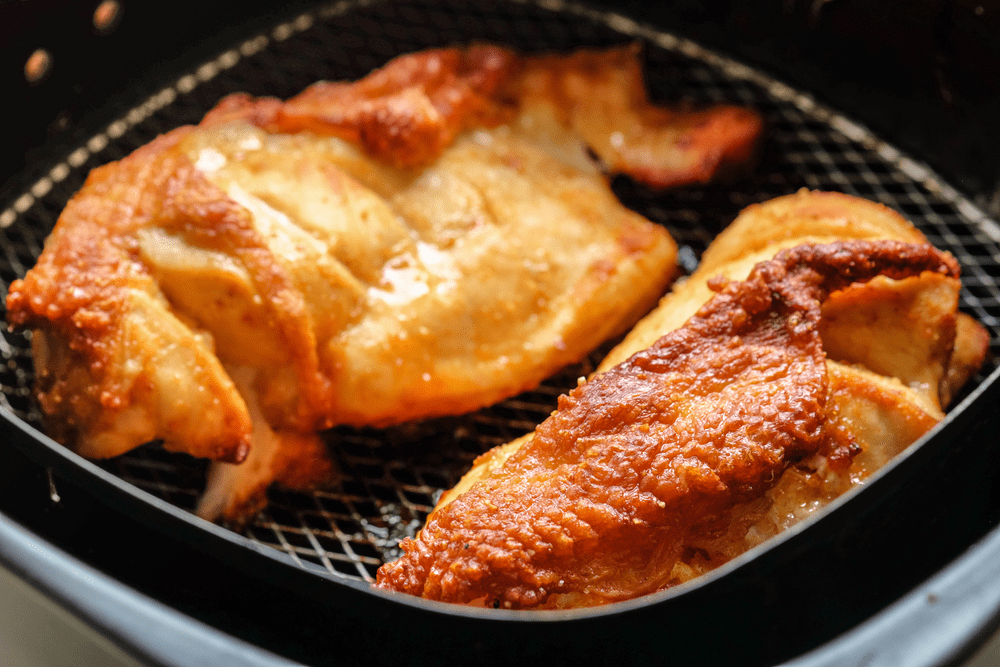 You might not think it but an air fryer is great for reheating fried chicken so it holds in that crispy goodness.
This is due to the even heat that circulates and creates the ultimate frying effect. Who can say no to that?
What you need –  Your air fryer and your chicken is all you need.
Step by step guide
When using an air fryer the chicken should be reheated at around 150 degrees less than what it was originally cooked at.
Pop your chicken in the air fryer and leave closed for 10 minutes, make sure not to open it during this time or it will lose the air circulation.
After 10 minutes check and if you're happy with the crispiness then take out and enjoy. If not, close and leave for another 5 minutes.
Pros & Cons – This is another ideal method for extra crispy chicken but it can be hard to master timings at the start so it takes a bit of practice to get the perfect texture.
Top Tips – If you can't seem to get the texture right spray some oil on the fried chicken pieces before putting them in the air fryer. This helps keep them crispy.
See Related Article: Best Turkey Fryer
Method 4 – Frying Pan to Reheat Fried Chicken
There are very few things simpler than frying food (well except a microwave, but we've already mentioned that). This method is really quick and easy and doesn't require too much attention.
What you need – A frying pan and some oil.
Step by step guide:
Take your chicken out of the refrigerator and leave sit at room temperature for half an hour.
Leaving for half an hour will help keep it crispy when cooking so it is important for this method.
Put the pan on high heat and throw a good bit of oil in so the chicken will be emerged in it.
When the oil is hot put the chicken pieces in and fry until crispy.
Pros & Cons – Re-frying is great for the real fried goodness taste but because this method needs half an hour to bring the chicken to room temperature it can be a little time-consuming.
Top Tips – Don't use olive oil when re-frying chicken because it can give it a burnt taste. Use vegetable oil for the best flavours.
Things to Avoid When Reheating Fried Chicken
So, we've broken down some of the best and most convenient ways to reheat chicken but it's also worth mentioning things you should avoid.
We wouldn't recommend heating in a toaster oven, it can be handy but toaster ovens lack the power to heat chicken all the way through. It can come out hot on the outside but cold on the inside, which is never good.
Don't leave your chicken to cool down on a paper towel. Why do you ask? Well because leaving it on a paper towel can get rid of excess grease, but when the chicken is left lying on this extra grease it can soak it back in and the chicken's crispiness can be affected.
You don't want to ruin all your hard work, do you? Never fry chicken in a pan without oil either this will dry out the meat and might stick to your pan too, which is a nightmare situation in the kitchen.
How to Store Fried Chicken
Fried chicken can last 3 to 4 days in a refrigerator, so you can get the most out of it. Make sure to refrigerate 2 hours after cooking or buying.
This is the best time because it stops bacteria growing and bacteria grow quickly at 40 °F and 140 °F. When storing always store in either an airtight container or wrapped in foil.
Fried chicken can also be stored in the freezer. If you do decide to store them this way 4 months is the best time to leave them for. But if the chicken has been kept at 0°F consistently then it can be stored in a freezer for as long as you like.
If you thaw out the chicken and want to store it again it can be kept in a refrigerator for another 3 to 4 days. If the chicken was thawed in a microwave, then it should be cooked and eaten straight away. Never eat chicken that looks or smells off.
Don't cook it and try it, just throw it away to be on the safe side.
Have Leftovers to Be Eaten?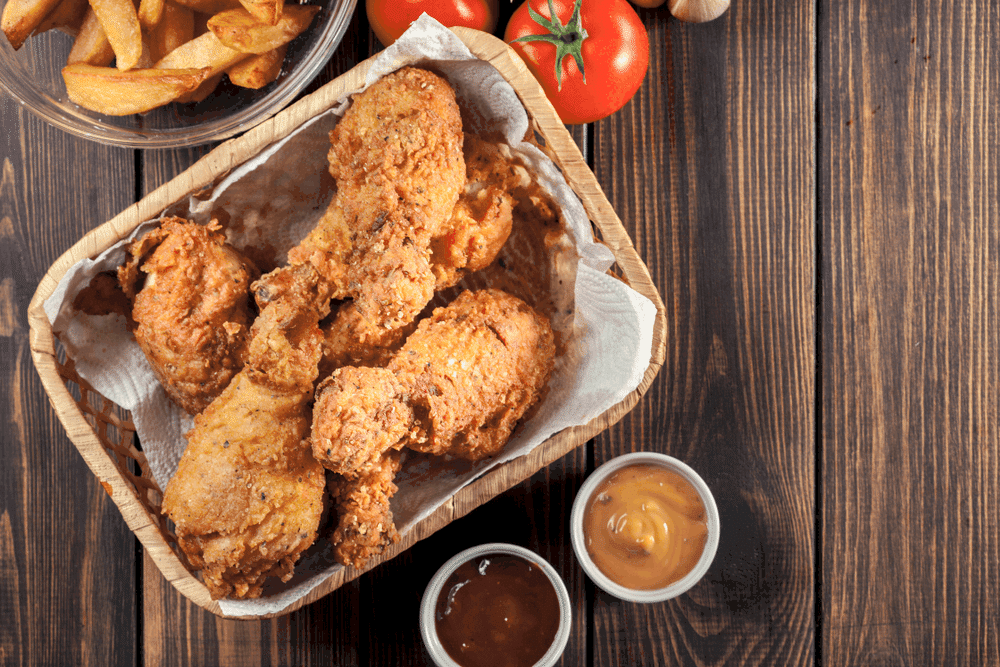 The above methods and tips will keep your fried chicken tasting crispy and delicious but what if you have more food that you're not sure how to cook.
Or you might not know what the best way to eat it is. Well, we're here to solve this problem, too.
There's loads of great food that can be reheated and eaten again when you need it.
We get asked about this a lot and people generally ask us about chicken wings, other meats – like pork, fries and crab claws.
So, we'll start with our favourite, chicken wings. We love chicken wings almost as much as we love fried chicken.
So, it would be rude not to mention them in this post. If you find yourself with lots of leftover chicken wings then you're in the right place.
All the above cooking methods can be used to reheat wings too. Our top tip would be in the oven but for more great methods have a  look at our blog post on how to reheat chicken wings and thank us later.
When it comes to French fries most people never think to save them but if there are loads left, it would be a shame to waste them. We hate food wastage here, and I'm sure you do too. If you want to cook French fries again they can be added to a pan with a little oil on high heat.
This retains their crispness and will have them tasting fresh. Or, they can be placed in the oven in a baking tray at around 400° F for around 10 minutes.
This is another way to keep them tasting delicious. For more great methods read our "how to reheat fries" post and let us know if you have any top tips, we'd love to hear them.
And finally, the crab claws. They are a big favorite of ours and no wonder. They are super versatile and are a great addition to any table or any meal.
If you want to reheat crab then preheat your oven to 350° F, add claws to a glass baking tray with about ½ an inch of water, cover the dish with aluminum foil and bake for 10 – 15 minutes.
Conclusion
Fried chicken goes great with just about anything from creamy coleslaw and mash potatoes to your favourite macaroni and cheese.
Even though it's a leftover fried chicken, with some of the best ways of how to reheat fried chicken, that could easily work just as well when it was first fried.
They are great for parties and the crispier the better. Like all chicken products, we can't stress the importance of making sure they are cooked through to 165° F before serving.
This is the safe temperature to eat chicken and should always be followed when cooking.
Whether you love your fried chicken from KFC or making your own recipe chicken knowing how to re-heat is essential for non-soggy and tasty chicken.
There's probably a lot of family secrets and tips out there for reheating. If you're a big fan or have any great tips that you think the world needs to hear, then leave a comment below.