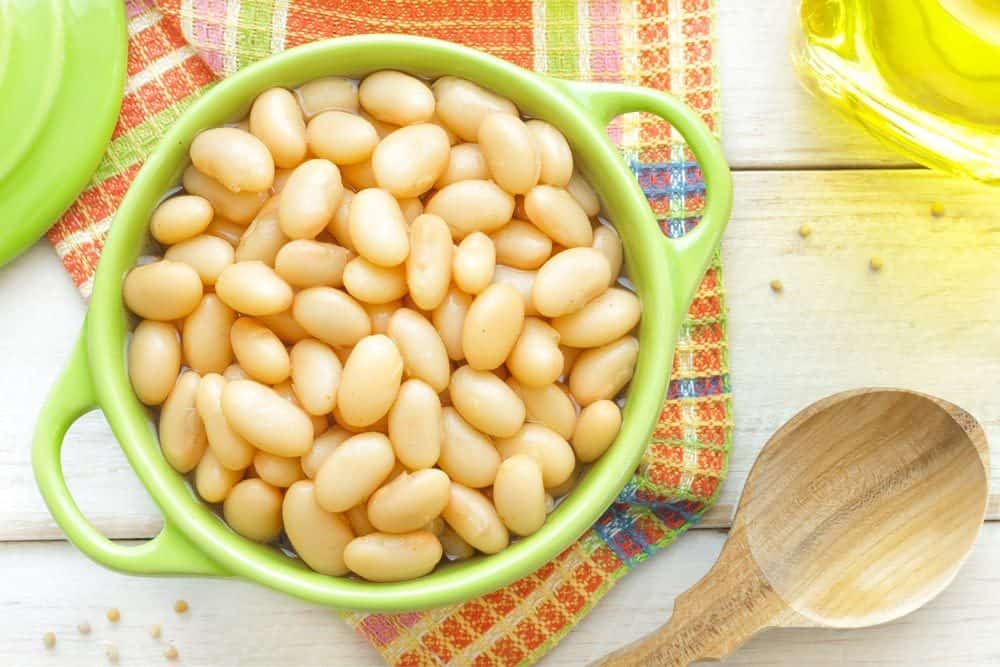 Beans are a nutritional powerhouse and play a very important role in the traditional diets of many civilizations worldwide. Also, vegans find that they can get a lot of benefits from eating these legumes, especially when talking about protein and mineral requirements. Of course, the bean family is very big, and today we will solely focus on the facts and advantages of white beans, also known as navy beans.
These legumes, like many others of their kind, are native to Central and South America and have migrated westwards during the European colonization of those parts of the world. These days they are a staple of many, and beloved by cultures and cuisines all over the globe. In this article, we are going to elaborate on why you should include more of this food in your diet (vegan or not), as well as give you some cool white bean vegan recipes.
Why Should You Eat White Beans?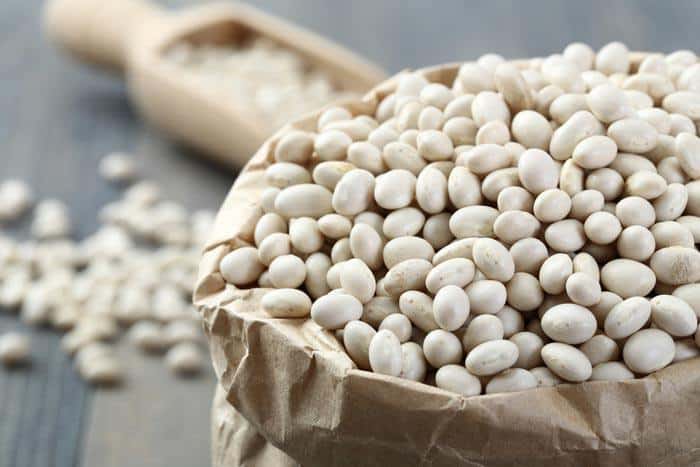 One cup of cooked white beans isn't much, right? However, it hides a world of nutritional wonders, and in this section, we will discuss what kinds of benefits a small portion of these beans provides you with. After reading this, there will be no excuse not to include this food in your eating regimen.
Packed With Fiber
As you may or may not know, most of the legumes (including white beans) are full of fiber, both soluble and insoluble. Just one cup of cooked white beans satisfies more than 40% of your recommended daily fiber requirements. That sounds great, but why does it matter? Well, soluble fiber can bind itself with bile acids that form in your stomach and remove them out of the body, thus preventing their further build up.
This process prevents the absorption and synthesis of bad cholesterol. Insoluble fiber will increase the amount of your stool and prevent constipation. The latter is good news for anyone with irritable bowel syndrome.
Anti-Cancer Properties
When our bodies metabolize, they produce these things known as the free radicals. These compounds tie to the cells and cause a plethora of negative effects such as faster aging, cancer, etc. White beans can help here since they contain a lot of antioxidants which fight and destroy free radicals, so regular intake of antioxidant-rich foods will negate their effects.
Good For The Heart
Vitamin B9, which goes by the name of folic acid (folate), can also be found in the white bean. This vitamin is known to counter the effects of the amino acid homocysteine which has been related to an increased risk of stroke and heart attack.
One cup of white beans has about 50% of your recommended daily folate intake. It has been shown that people who regularly consumed a 100% of the recommended daily value have decreased their risks of heart disease by 10% since their homocysteine levels declined as time went by.
Maintains Good Cognitive Functions
Renewal and proper operation of brain cells partially depend on regular intake of a vitamin called B1, also known as thiamin. This vitamin has been linked to the normal functioning of your brain and memory, and one cup of white beans contains around 15% of the recommended daily value of B1.
Source Of Quality Protein
A cup of cooked beans contains around 18-20 grams of high-quality protein, which is the same amount that 100g of chicken breast have. This is an essential factor for vegans or anyone who is on a diet that might be lacking this macronutrient. However, make sure to combine the beans with other plant protein sources in order to have a complete amino acid profile and reap the most benefits.
White Bean Vegan Recipes
1. White Bean And Mushroom Soup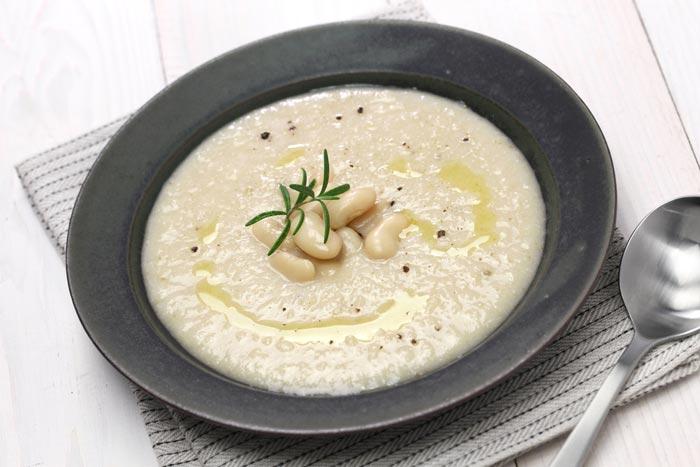 Creamy, rich and delicious – three words to describe this dish. The white bean and mushroom soup is one of those hearty meals that you'll crave on a cold autumn afternoon; perfect to share with a loved one. It is healthy, satiating and loaded with flavor, so don't be surprised if it becomes one of your favorite meals. The best part is, it takes a mere 40 minutes to prepare!
Ingredients
● 450 grams of baby Bella mushrooms
● 1 red onion
● 2 cloves of garlic
● 400 grams of white beans (1 can)
● 500 milliliters of vegetable broth
● 1 teaspoon of dried rosemary
● Salt
● Pepper
● 1 tablespoon of olive oil
Instructions
1. Peel and chop the red onion; peel and finely mince the garlic cloves.
2. Wash and roughly chop the mushrooms; drain and rinse the white beans.
3. Heat up oil in a saucepan and then add the onion and garlic. Stir frequently and let it cook until the onions start to brown.
4. Add the mushrooms and let them soften.
5. After the mushrooms become soft and the rosemary and the white beans.
6. Let everything cook for about 4-5 minutes and then add the vegetable broth.
7. Season with salt and pepper, bring to a boil and let it simmer for about 30 minutes.
8. You can let it cook for longer if you wish.
9. Take the immersion blender, place it into the soup and blend until creamy.
10. Garnish with fresh herbs.
2. Spicy White Bean Vegan Chili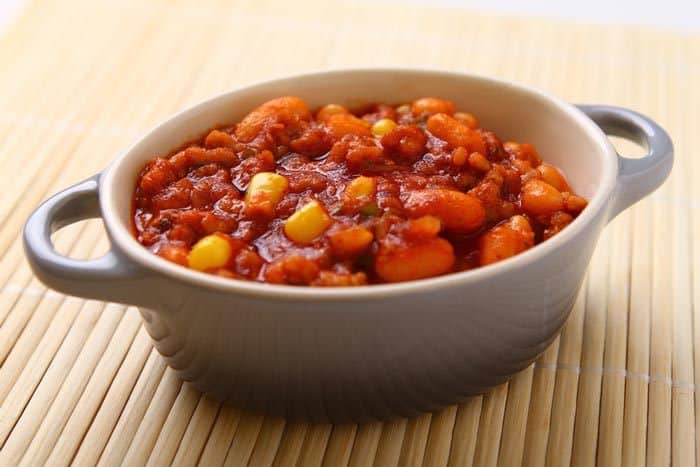 Lovers of Mexican cuisine will be thrilled to find this recipe. Here, we are presenting you with a spicy and tasty vegan version of this famed dish. Chili has been a family favorite all over the world for many decades now, and the beauty of it is that its ingredients are flexible and it can be prepared in bulk. Our white bean chili doesn't require any preparation ahead and is made with ingredients that are affordable and easy to find in most households.
Ingredients
● 3 large tomatoes
● 2 white onions
● 2 cloves of garlic
● 100 grams of chopped mild chilies
● 450 milliliters of vegetable broth
● ½ teaspoon of red ground pepper
● 1 teaspoon of oregano
● Salt
● Pepper
● 1 tablespoon of olive oil
● 800g of canned white beans (2 cans)
● Non-dairy cheese
Instructions
1. Wash and finely chop tomatoes, peel and chop onions, peel and mince garlic gloves.
2. Finely chop the chilies.
3. Heat up a pan over medium heat.
4. Add the onions and let them cook until they are light brown.
5. Add the chopped chilies, tomatoes, onions, garlic, and all the spices.
6. Reduce the heat and let the mixture simmer until tomatoes soften.
7. Add the vegetable broth, bring to boil, reduce the heat and let it simmer for about 15 minutes.
8. Add the beans and let the chili simmer until it thickens (about 15-20 minutes)
9. Season with salt and pepper to taste
10. Serve in a bowl and grate the non-dairy cheese over it
3. Mediterranean White Bean Salad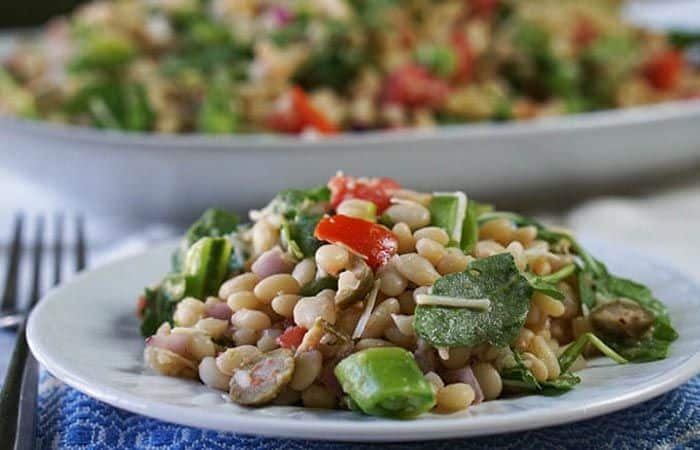 This healthy Mediterranean white bean salad combines the crunch of fresh vegetables, mushiness of the beans, and a variety of condiments to deliver a multi-textured, flavorful meal. It is light and quick to whip up which makes it ideal for folks who like to eat on the go. Have it at home or bring it to work for lunch.This one is a great option for those trying to lose some weight and do it on a budget. All the foods that go into this dish are cheap, healthy, and it's almost impossible to overeat on this salad.
Ingredients
● 1 bunch of parsley
● 400g canned white beans (1 can)
● 20-25 cherry tomatoes
● 4 cloves of garlic
● 2 tablespoons of olive oil
● Juice from 1/2 lemon
● Pepper
● Salt
● Handful of walnuts
Instructions
1. Wash the cherry tomatoes and slice them into halves.
2. Open the can, drain and rinse the beans thoroughly.
3. Chop the parsley into large chunks.
4. Peel and finely mince the garlic.
5. Combine all the ingredients in a large bowl and pour olive oil over it.
6. Squeeze a little bit of lemon juice on the salad, add salt and pepper to taste.
7. Throw in a handful of walnuts.
Conclusion
When it comes to white beans (or any bean as a matter of fact), you need to keep your mind open, because this is the only way to experience the full potential of this wonderful food. Try out new recipes or try to make up your own original dishes, because beans present an ideal base for experimentation.
Keep in mind that healthy food can also be delicious, and these legumes prove that pleasure doesn't have to be guilty. Even if you are not vegan, try switching meat for a few servings of beans once in a while. We are sure that you will love it and your body will thank you.