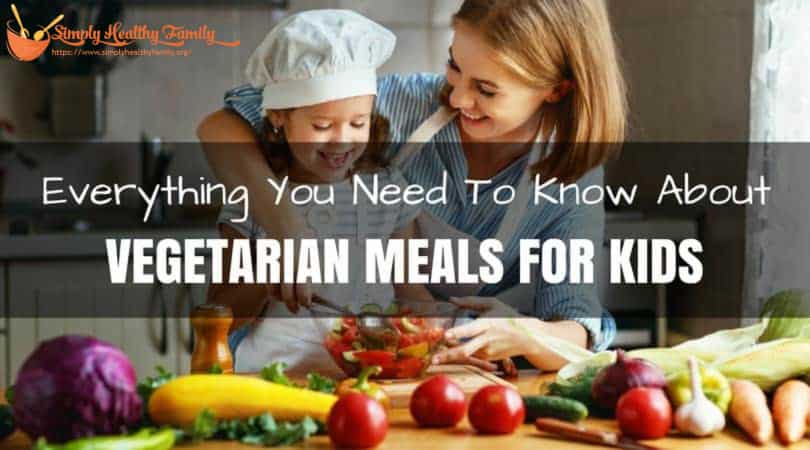 It doesn't matter whether you want to raise your kids as vegetarians or you just want to teach your kids to eat something other than meat, a diet based on fruits, vegetables, legumes, and nuts can form the foundations for a lifetime of health. There are numerous long-term advantages of plant-based diet parents should consider, including low cholesterol levels, decreased risk of hypertension and obesity, and protection against cancer and heart disease.
Contrary to the popular concerns that vegetarian diet cannot meet the nutritional needs of children, a vegetarian diet can be perfectly safe and beneficial if it is appropriately planned. If you are considering a vegetarian diet for your kids, read this article to find out how to plan their meals and get some great recipes.
Nutrient Needs A Diet Should Meet And How They Are Met In Vegetarian Diet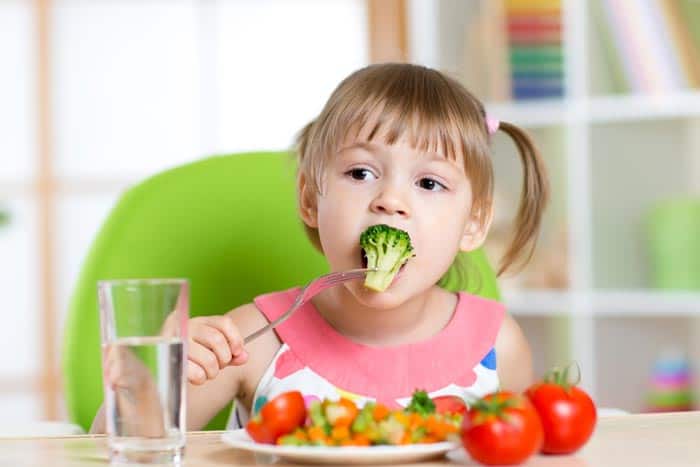 One of the biggest concerns when it comes to a vegetarian diet is that it won't be able to provide kids with enough protein, which is essential for children's growth. What we often forget is that kids don't specifically need high-protein from animal-based food to grow. A diversified menu of fruits, veggies, beans, and grains can supply plenty of protein.
As for the complex carbohydrates, vegetarian meals provide just enough energy for kids' active life. They are found in healthy foods such as barley, millet, quinoa, brown rice, rolled oats, whole wheat bread, and corn.
Although we often view fat as the "bad guy" it is yet another essential nutrient that should be taken with caution. Younger kids may require higher fat intake than adults. Some of the healthiest fat sources are avocado, soy, and peanut butter.
In order for your kids to have healthy blood and nerve function, they need to consume sufficient vitamin B12. Since the foods that are the highest in B12 are seafood, beef, and chicken, we should look for a way to compensate the lack of this vitamin, by introducing fortified rice and soy milk, commercial cereals and nutritional yeast into kids' diet. Also, kids can take supplement product and vitamins like Spirulina.
Calcium is another essential nutrient which can be obtained by eating sweet potatoes, green veggies (collards, broccoli, kale, mustard greens), dried figs and beans. Calcium-fortified juices are another great idea. Furthermore, limiting salt intake and renouncing animal protein can help with retaining calcium in the body.
Growing children also need enough iron for successful development. Great and healthy sources of iron are green leafy veggies and different kinds of beans. Since vitamin C enhances iron absorption, it is a good idea to eat vitamin C rich foods like citrus fruits or tomatoes with iron sources (e.g. burrito with beans and leafy greens with tomato salsa).
Finally, kids need vitamin D. Fortunately; this vitamin is something our bodies produce on their own when they experience enough healthy sun exposure.
How To Deal With Children's Pickiness?
Vegetarian diet or no vegetarian diet, children can be very picky eaters, and sometimes it is difficult to include all of the mentioned nutrients in their diet. Some of the ways parents can deal with that is by including the children in the food preparation process, giving a good example, using various flavors to make the meal more attractive, interesting ways of food presentation (e.g., broccoli forest), including one familiar and loved flavor per dish and "covering up" some veggies in a wrap or tortilla.
How Vegetarian Makes Meal Prep Quick And Easy?
Vegetarian meals are much easier to prepare than meat-based dishes, not to mention that the pots and plates will be much easier to clean afterward since there will be no messy grease involved. If you have little time to cook, between your work and preparing the kids for school here are a few tips for getting those healthy veggies meals on the table ASAP:
● Buy easy to clean fruits. Most fruits like bananas and apples only need to be washed or peeled to be ready to eat, while some, like pineapple and papaya, are complicated to clean and chop. The latter ones can be bought pre-peeled and chopped.
● Do the same with veggies. Prewashed lettuce, spinach, and mix greens are ready to be served as soon as you buy them. You can also go to the salad bar and purchase cleaned and pre-cut vegetables.
● Buy canned. Canned refried beans and veggie chili can be great additions to rice-based meals and pasta. You can also buy canned soups.
● Use the leftovers. Today's rice can be tomorrow's rice pudding. The leftovers of a dinner salad can be ingredients for lunch burrito.
What To Do On Special Occasions (School Meal, Party Snacks)?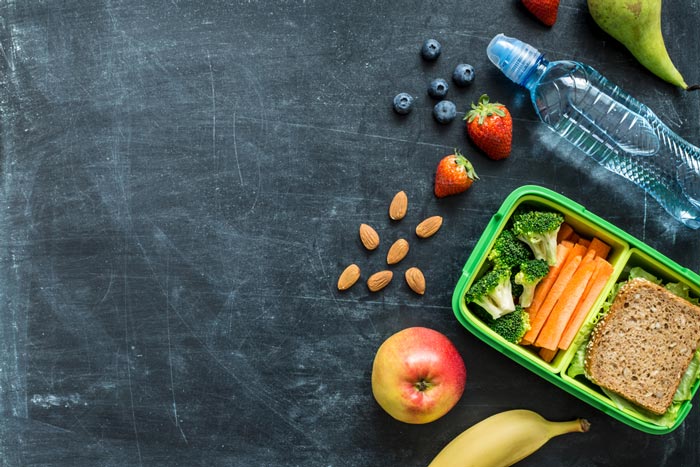 Children love to be a part of the group, and they don't like to stand out much among their peers. Bringing salads to school or serving zucchini at their birthday parties will do exactly that. The best thing to do in those cases is to use alternatives that are similar to conventional school lunches and birthday snacks. Here are some meals you can experiment with:
● Sandwiches: Whole-grain bread sandwiches are not only healthy, but they can also be very delicious if made with diverse ingredients like sliced tomatoes, soy cheese, peanut butter, etc.
● Soups and hot meals (e.g., stews): These dishes can be packed in a wide-mouth thermos.
● Side dishes: Fresh fruit, homemade muffins, whole-grain crackers, and pretzels make great choices for completing the kids' school meal.
● Vegan versions of hot-dogs are an excellent choice for kids' birthday parties, because they taste great, look familiar and can be complemented with different toppings.
● Vegan burgers have similar benefits.
● Veggie pizzas with tomato sauce, fresh vegetables, and soy cheese will be tempting even for kids who are not on a strictly vegetarian diet.
● As for dessert, any soy-milk based cookies or muffins will do the trick. Fruit smoothies are also a good idea.
Bonus – Easy, Breezy And Meat-Free Kid-Friendly Recipes
Now here are some fascinating and simple-to-make vegetarian meals for kids, from breakfast to lunch, and if you stick around to the end, you might get a dessert recipe as well.
BREAKFAST: Pumpkin Pancakes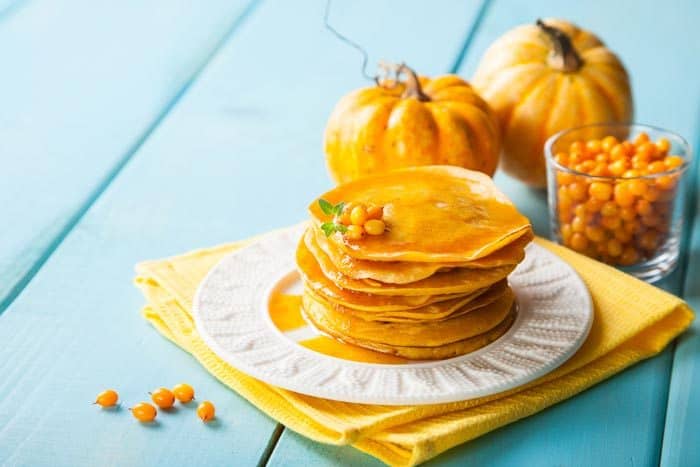 There is no kid in the world who doesn't like pancakes, and this recipe will make them healthier, and believe it or not, even more delicious.
Ingredients:
● 1 cup vanilla almond milk (unsweetened)
● 1 tsp lemon juice
● 1 tbsp melted vegan butter
● 1/3 cup pumpkin puree
● 3 tbsp brown sugar
● 1 tsp vanilla extract
● 1 tsp baking powder
● ¼ tsp cinnamon
● 1 tsp maple syrup
● 1 tsp pumpkin pie spice
● Pinch salt
● 1 cup whole-wheat pastry flour
Instructions:
1. Preheat large skillet over medium heat on the stovetop.
2. Mix milk and lemon juice in a large bowl and leave to rest for about five minutes.
3. Add melted butter, maple syrup, brown sugar, pumpkin puree and vanilla extract. Whisk.
4. Add flour, baking powder, spices, and salt. Mix.
5. Spray the skillet with cooking spray, and bake pancakes as usual.
6. Serve and top with maple syrup.
LUNCH: Sesame Noodles In Peanut Sauce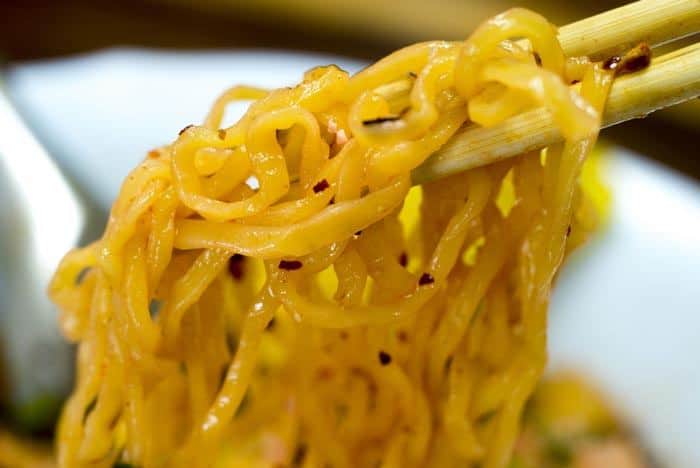 Asian dishes are always a great choice when it comes to vegetarian meals, here's one your kids will love.
Ingredients:
● 1 pound thin (optional: whole-wheat) spaghetti
● ½ cup peanut butter
● 1 garlic clove
● 1/3 cup soy sauce
● 1/3 cup rice vinegar
● 1 cucumber, peeled and halved lengthwise
● Salt to taste
● ½ tbsp red-pepper flakes
● 2 carrots, peeled and shredded
● 2 tbsp sesame oil
Instructions:
● Cook pasta until al dente in a large pot of boiling water. Drain and pour into a large bowl.
● In the meantime, prepare a peanut sauce by blending peanut butter, pepper flakes, garlic, vinegar, soy sauce and sesame oil in a blender until smooth.
● Cut cucumber into thin strips.
● Toss pasta with peanut sauce, carrots, and cucumbers.
● Serve at room temperature.
DINNER: 5-ingredients Burritos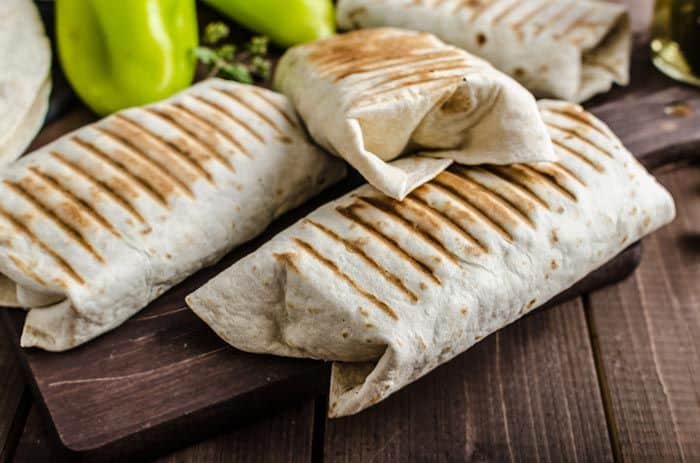 Burritos are very beloved both by kids and parents. For parents, they mean you can sneak away some healthy ingredients your kids wouldn't normally eat in a wrap.
Ingredients:
● 15oz can of refried beans
● 1 green pepper, chopped
● 1 onion, chopped
● 1 cup shredded soy cheese
● 4 tortillas
Instructions:
1. Preheat the oven to 350F.
2. Heat about one tablespoon of olive oil in a large skillet.
3. Add onion and pepper. Cook until soft.
4. Add refried beans. Stir. Let heat for a few minutes.
5. Lay tortillas on a flat surface and spread ¼ of the mixture on each. Top with shredded cheese and roll.
6. Cover with foil and bake in the oven for about 10 minutes.
7. Serve with a salsa of your choosing.
DESSERT: Coconut Milk Chocolate Pudding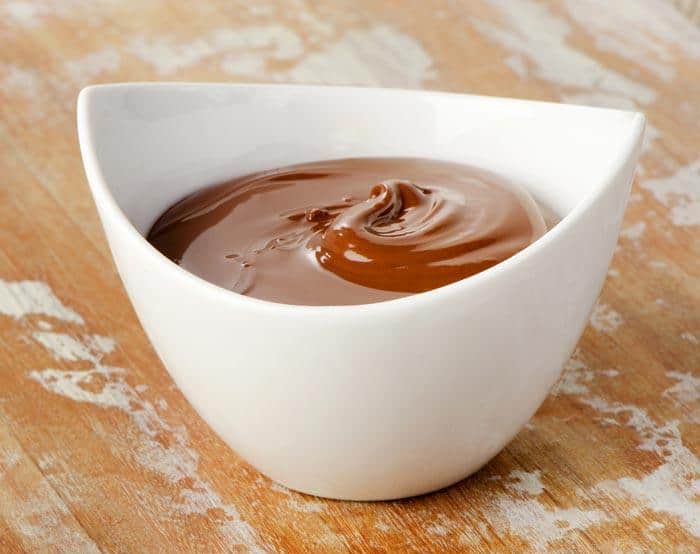 Nothing more delicious than a rich, decadent chocolate pudding – here's how to make it.
Ingredients:
● ¼ cup organic cocoa powder
● 3 tbsp cornstarch
● 1/3 cup + 2 tbsp brown sugar
● 2 tbsp cold water
● Pinch of salt
● ½ cup almond milk, unsweetened
● 1 can (14oz) coconut milk
● ½ tsp vanilla
● 1/3 cup dairy-free chocolate chips
Instructions:
1. Mix cornstarch and water and leave to dissolve.
2. Combine cocoa, sugar, salt and coconut milk in a saucepan. Cook on medium heat.
3. Gradually add almond milk to the saucepan. Stir non-stop, until smooth.
4. Cook until you notice a thin film on the top of the surface.
5. Remove from heat and add chocolate chips.
6. Add vanilla and cornstarch-water mix.
7. Return the pan to stove over medium heat and stir constantly.
8. Cook until thick.
9. Transfer to a heatproof dish and cover with a plastic wrap. Refrigerate for about two hours.
10. Serve.
So, were we right and did you learn everything you need to know about vegetarian meals for kids? The most important thing to know is that, when planned properly, vegetarian diet, just as the conventional diet, can meet all the nutritional needs of your child.