Gluten-free diets are all the rage at the moment, and it is not just a fad – there are legitimate medical reasons to try it, and it has improved the lives of a lot of people, some of which never knew they even had a problem. It has been quite a revolution, and a lot of people are trying it out now, hoping to improve their quality of life.
Most people who go on gluten-free diets start eating a lot of meat, eggs, and cheese to replace all the foods they stopped eating. However, vegetarians and vegans don't have that option and going on a gluten-free diet without meat might seem like a tough thing to do.
There are ways to do it, though, and plenty of recipes that you can use to get through it. Today, we will list some important info about gluten-free diets, how they impact vegetarians and go through a few of the best vegetarian, gluten-free recipes we could find. So, let's get started!
What is Gluten?
Gluten is a word that's been thrown around a lot these days, but not a lot of people understand what gluten is. In short, the word refers to a while family of different proteins that can be found in grains like wheat, barley, rye, oat, and others. Thus, it can also be found in most products derived from those grains. It's what gives dough elasticity and what gives pastries their savory taste and chewy texture. Proteins in corn, maize, and rice are also called gluten sometimes, but they are not the 'true' gluten we are talking about here, which is only found in some grains.
However, gluten has found wide application in the food industry and many common, everyday products contain it. This type of wheat gluten is also called seitan.
This is especially pertinent to vegetarians and vegans since many staple foods of vegetarian and vegan diets are filled with gluten. Imitation meats are made almost entirely out of gluten, for example, and it can be commonly added to soy-based products like tofu. If you're a vegan making a Thanksgiving dinner, you have probably used or heard of the Tofurkey, and it is loaded with gluten. It is also present in various condiments, like soy sauce or ketchup, as well as beverages like beer. You can even find it in the most unexpected places, including foods like ice cream.
Gluten by itself is not harmful to most people, excluding those with some genetic diseases, the most prominent of which is the celiac disease, but there are others, including simple wheat allergy as well as gluten sensitivity. The incidence of various gluten-related diseases is growing in recent times, partly due to the wider use of gluten and partly due to the lowering of the overall quality of gluten.
Thus, more and more people are resorting to a gluten-free diet, vegetarians included.
What are the Benefits of a Gluten-free Diet?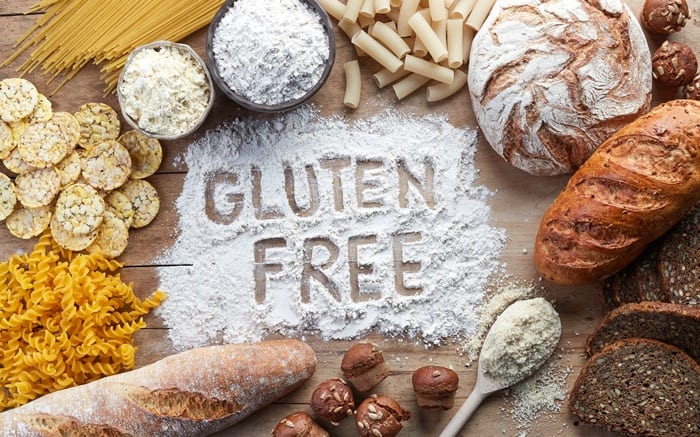 Well, for people who have problems with gluten, whatever their cause, will find their symptoms relieved. These symptoms can range from flatulence to indigestion, stomach pain, trouble gaining or losing weight, insomnia, lack of appetite, headache, chronic fatigue, and so on. Both celiac disease, as well as gluten sensitivity, can cause these symptoms and more. Organs not even remotely related to the intestinal system may be affected, and neurological or even psychiatric problems can arise – some people even had hallucinations due to gluten intolerance.
You might be sensitive to gluten but just not know it, since the condition is not regularly diagnosed at this time. Various small health issues you might have and that can't be pinned on anything specific could be a result of gluten intolerance. It is estimated that around 6 to 10 percent of the population is gluten intolerant, which is a significant number.
Trying a gluten-free diet is, currently, the easiest and most reliable way to check if you are gluten intolerant and trying it is completely risk-free since there are no nutrients in gluten that can't be provided by other foods. Just make sure to choose a well-balanced and healthy diet – not every gluten-free food is automatically healthy and good for you. Gluten is not poison, and most people handle it fine – it just can't hurt to try it and check if you're one of those that don't.
The 3 Best Gluten-free Vegetarian Recipes
After scouring the internet and trying out a lot of different recipes, we have narrowed down our list to a few of the best ones. These recipes are relatively easy to make, don't require any extravagant ingredients and you can eat them daily without problems. They're the perfect solution for vegetarians on a gluten-free diet, and here they are.
Mexican Stuffed Sweet Potatoes with Eggs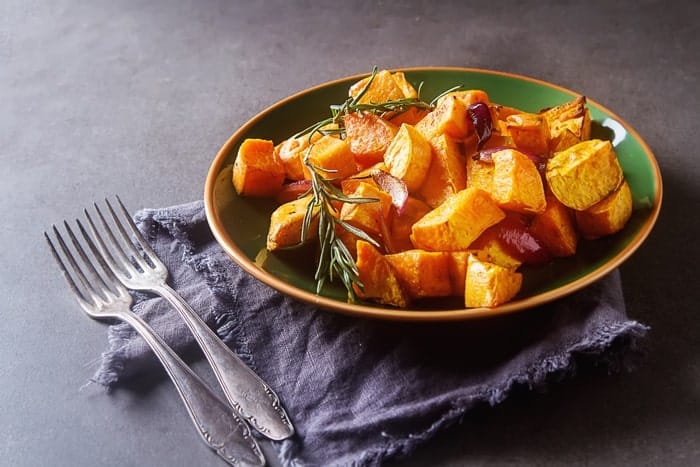 This is a dish that requires almost no effort to make and won't leave you cleaning sticky dishes. It can be used as a tasty and filling snack or as an appetizer. Either way, it's, nutritious, tasty and gluten-free.
You will need the following: 4 sweet potatoes, 4 eggs, 2 garlic heads, 2 teaspoons of extra virgin olive oil, ½ tablespoon of taco seasoning, ¼ cup of fresh cilantro, ½ cup of avocado, 1 tablespoon of lime juice, 1 teaspoon of lime zest, 2 tablespoons of water and 1 fresh tomato.
– Preheat the oven to around 400 degrees and place a baking tray lined with foil inside, with the potatoes on it. Bake for around an hour and a half.
– Afterwards, cut off the garlic tips and drizzle the olive oil onto the cloves.
– Wrap the garlic into tinfoil and bake it for around 40 minutes.
– Once the potatoes are done, leave them to cool then slice them down the middle. Scoop the flesh out of the middle but leave a little on the sides.
– Mash half of the flesh you removed and add taco seasoning, cilantro, salt and pepper to it, to your taste.
– Then, squeeze in all the garlic into it and mix it all.
– Place the flesh back into the potatoes while leaving a hole in the middle of each one.
– Put the potatoes back onto the baking sheet and crack an egg in the middle of each one.
– Bake them at 375 degrees for around 10 to 15 minutes. Watch closely and don't overcook the eggs.
– While that is being done, put the mashed avocado, lime zest and lime juice into a food processor or mix it by hand until it's smooth. Mix in the water then season it with salt and pepper to your liking.
– Spread the sauce on top of the potatoes when they are done and serve.
There, it's mostly a simple but delicious vegetarian recipe that is completely free of gluten.
Cauliflower Lentil Loaf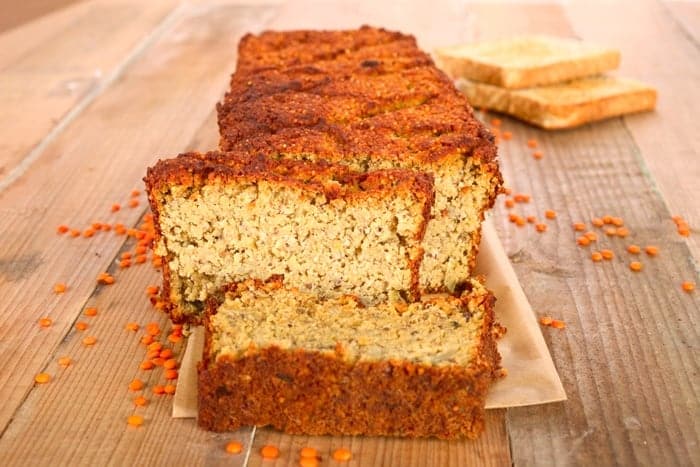 This is quite a hearty meal that will satisfy the taste of most people and can be used as a great substitute for bread, or as a standalone meal.
The following ingredients are necessary: 1 cup of cooked brown lentils, 3 cups of raw cauliflower, 1 cup of chopped up sweet onions, 2 cups of chopped bell peppers, 2 tablespoon of nutritional yeast, 2 teaspoons of minced garlic, 1 teaspoon of mustard, ½ teaspoon of smoked paprika, ½ teaspoon of cumin, ¼ teaspoon of black pepper and ¼ of chipotle powder.
– Preheat the oven to approximately 400 degrees.
– Saute the chopped onions and pepper on a stove in a skillet to soften them.
– Rice the cauliflower using a food processor until you end up with 3 crumbled cups. Squeeze them with a towel to get rid of the excess water.
– Cook the lentils according to the instructions on their packaging and leave them to cool.
– Combine all the ingredients in a large food processor until they are mixed well, not smooth.
– Put them in a loaf pan lined with parchment, press them into the pan and make the top smooth.
– Add additional seasoning or sauces on top, to your liking.
– Bake it in the oven for around 40 to 45 minutes.
– Let it cool, then slice and serve.
As you can see, it is a relatively straightforward recipe. It is well-suited for almost any meal and will satisfy even people who aren't vegetarians.
Brown Rice Risotto with Mushrooms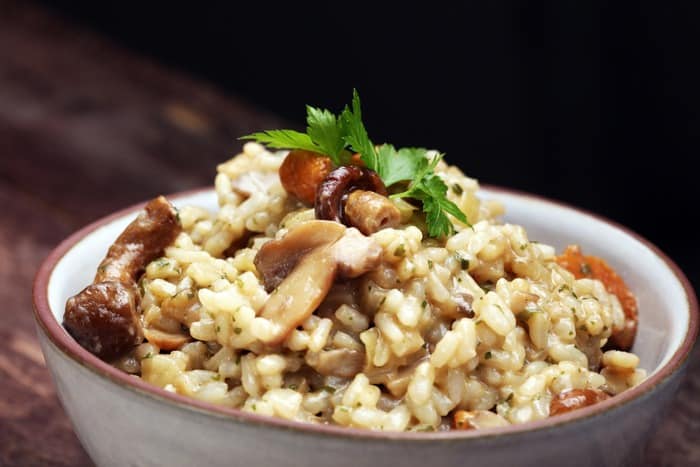 This is a creamy and delicious baked brown risotto that takes almost no effort to make. It is a great meal for a group of people, and this recipe is suited to anywhere between 4 to 6 servings.
These ingredients are required: 3 tablespoons of olive oil, 1 chopped small yellow onion, 2 minced cloves garlic heads, 5 cups of vegetable broth, 1.5 cups of brown Arborio rice, 12 ounces of sliced baby Portobello mushrooms, 1 cup of grated parmesan cheese, 3 tablespoons of unsalted butter and 4 sprigs of oregano.
– Preheat the oven to around 375 degrees.
– Heat up one tablespoon of olive oil until it starts simmering.
– Add onions with a little salt.
– Cook and stir for around ten minutes before adding minced garlic
– Continue cooking for another 2 to 5 minutes, until the onions become browned
– Add 4 cups of broth then cover it all and wait until it boils, then remove from heat and pour in the rice while stirring.
– Bake it all until the rice becomes tender, for around 60 to 70 minutes.
– During baking prepare the mushrooms and warm two tablespoons of olive oil in a skillet until it simmers.
– Add the mushrooms in and cook until they are darkened, which should take around 15 minutes.
– Remove the pot from the oven and pour in the remaining one cup of broth.
– Add the parmesan, the butter, salt, and plenty of pepper.
– Stir it for 2 to 4 minutes until the rice becomes creamy and thick.
– Stir in all of the mushrooms.
– Season it however you like, then it into bowls and top it with plenty of fresh oregano leaves.
As you can see, it's a relatively easy dish that will leave you nice and full. It's good for a group of guests coming over.
Conclusion
Those are the best vegetarian, gluten-free recipes we could find, and we like them all a lot. We believe they will be able to satisfy most people. If you happen to have a recipe you like, feel free to share it with others in the comments. We hope this article was helpful to you and that you will find other useful articles here.