What many people do not know about mushrooms is that it has been a popular choice of healthy food since ancient times. Despite its odd look, it comes with food nutrients that are hard to find in the rather common food choices. In this we could say that nutrients found in mushrooms can be rare and is not very usual. Nevertheless mushrooms are essential part of a man's diet and it is important that a person include mushrooms in his diet.
While mushrooms that are eaten raw can taste really awful, there are a few ways on how to prepare it in order to bring about its best taste. In this article, we will share with you one of the best ways to prepare soup – and that is through a mushroom soup. However, we'll not just feature any mushroom soup recipe. We'll provide you with the best mushroom soup recipe which is the vegan mushroom soup recipe.
Preparing the vegan mushroom soup
Preparing the vegan mushroom soup is easy as well as doesn't require many ingredients – and you don't have to wear your best chef shoes to prepare it. You usually end up with the basic ingredients that you have in the kitchen such as garlic, onions, pepper, and others. So to start your preparation for this recipe, you will need your primary ingredient – the mushroom.
When it comes to finding the right mushroom to use for your recipe, make sure that the wild mushroom is clean of any dirt or damage. Usually, you will find the best kinds of mushrooms to use for cooking in a reputable market or store. Also, you should be familiar with what the edible mushrooms look like before purchasing. It is always best to ask the seller about the merchandize before buying.
Once you have purchased the right amount of mushrooms, you can go ahead and wash them to rid of any dirt. When washing the mushroom, make sure to check underneath its umbrella to find any hidden debris or dirt. Once the vegetable is washed, you need to keep it totally dry for easy sautéing later on. Chop the mushrooms using a knife or through a vegetable chopper into thin slices and allow them to totally dry for a few hours.
After the mushrooms have been dried, you can now heat a casserole or a soup pan and melt 2 spoons of butter. Start sautéing onions and garlic as soon as the pan heats and cook the first ingredients for at least 4 to 5 minutes until the garlic has turned light brown. After which, add a few drops of olive oil and immediate add the chopped mushrooms. Sauté the ingredients for at least 10 minutes with constant stirring in order to avoid burning the mushroom.
At first, the pan will seem a bit crowded when the mushrooms are added but will later on have enough space once they are cooked.
Once the mushrooms are a bit tender, add parsley and stock then slowly bring them to boil then simmer. At this stage, you can now add salt, pepper or even lemon to the recipe depending on your taste. Or you can also explore other vegan mushroom recipes such as adding vegetable leaves on the soup or even some pieces of fried tofu in order to have a different texture to the soup and to have more nutrient-content.
Vegan mushroom soups are among the healthiest food choices that many people are after today. Not only is this recipe packed with nutrients that the body needs but it is also easy to prepare and not many ingredients are required. If you're always on the go and don't want to skip a healthy meal any time of the day then the vegan mushroom soup could be your best option.
Vegetarians and mushrooms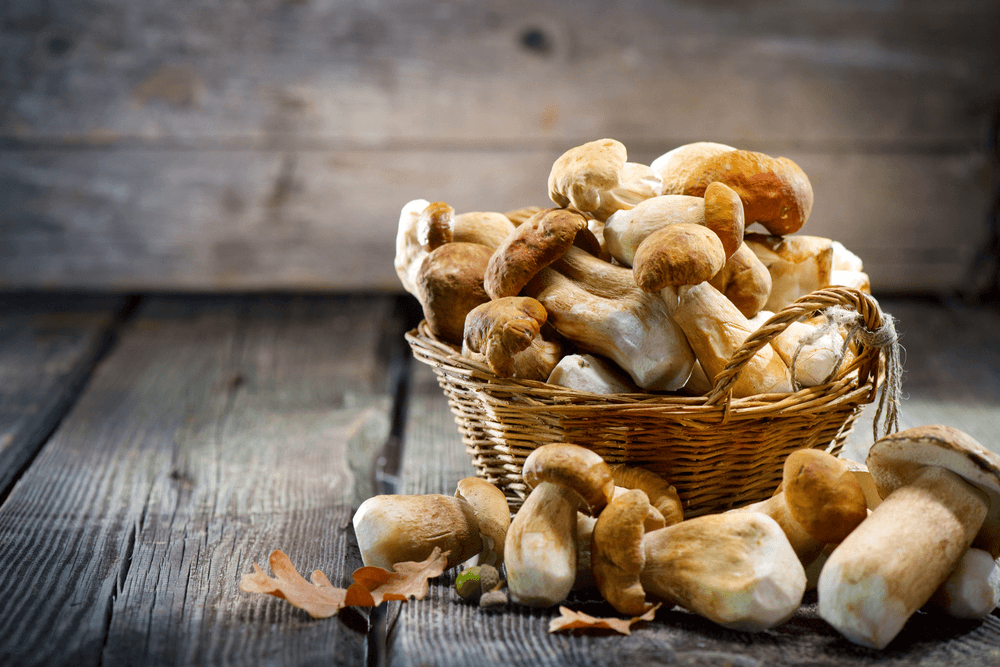 For us to be able to understand the essentials of preparing the vegan mushroom soup, let us first understand our ingredient in order to maximize its use and to know what to expect from it. While mushrooms can indeed be taken as a diet for a normal person with normal eating habits, including mushrooms in a diet can be a question to vegetarians. Is it safe for them to eat mushrooms as well?
One known trait that mushrooms have is that it brings a meaty taste when prepared and cooked correctly. This leaves vegetarians wondering if it defeats the purpose of being a vegetarian if they are actually pursuing a food that tastes like meat. As a quick question to this, it doesn't defeat the purpose of a vegetarian pursuing a meat-free life. Mushrooms are 100% grown from the earth and are considered plants without blood, meat or any which an animal has. Also, while mushrooms can be prepared and cooked to resemble the taste of meat, it can also be prepared in order to avoid achieving such taste. One of those recipes includes the vegan mushroom soup.