There is a lot of people who are not vegan asking the strangest questions about a vegan lifestyle. One of those questions, though, puzzles even the ones that have dedicated themselves to a vegan diet, especially "the beginners". That question is "How will I find a proper vegan meal during my working hours?"
Indeed, only a few of us can boast of a working place which is close to a restaurant that serves vegan food to go or have an office right next to a farmer's market. In short, vegans usually do not have it easy when it comes to eating nutritious, high-quality food at their work. Of course, you can bring an apple or a banana, some vegan protein shake or other snack, but if you work long hours that will simply not be enough.
For this reason, we have set on a mission to discover the best vegan lunches for work, and we will share the quest and its results with you.
Will Eating Vegan Food Influence Your Performance At Work?
If you are an experienced vegan, you have surely discovered all the pros and cons of this kind of diet. It is not all bells and whistles, but being vegan definitely offers a lot of benefits, especially when it comes to your health. However, there are some drawbacks too, and some of them are more than important if your work entails a lot of hard physical work or mental strain and stress. In both cases, you will have to eat well, and make sure you are getting all the nutrients you need so that your mind and body can function optimally.
For this reason, you need to plan your meals carefully to make sure that you intake all the important vitamins and minerals. If not, you might experience the lack of concentration, tiredness or even become seriously ill.
The first problem that many vegans encounter is the lack of Iron. Red meat is a great source of iron, and when you eliminate it from your diet, you automatically risk disturbing the iron levels in your body. Iron deficiency results in you feeling tired and sleepy, which can seriously diminish your working abilities and hinder your performance.
As we have already mentioned, people on a regular diet get their iron from the meat. This does not mean that iron cannot be found in plant-based food. It is, quite oppositely, present in most fruit and vegetables, especially the green leafy veggies.
The problem is that the absorption of iron from vegan food is much slower and less successful in comparison to that from meat. To fulfill your nutritional needs, you must try to eat wholemeal flour, beetroot, pulses, and drink nettle tea. You can also take supplements or ready-made food fortified with iron. On the other hand, do not make eating packaged (and thus processed) food a habit. You might not be at home, but you still want to eat as healthy as possible. That is the whole point of becoming a vegan in the first place, isn't it?
Another potential problem of a vegan diet is a lack of Vitamin B12 and Vitamin D. Together with iodine and DHA (the long-chain omega-3 fat), these vitamins regulate your mood (or mood swings, to be more precise). If you have too low levels of these vitamins, you can feel a bit depressed- which is certainly not a good thing when you are at work, no matter what you do.
The lack of vitamin B12 will also contribute to your fatigue, which is even worse as it can further diminish your working ability. If you want to prevent these problems, you should either take supplements or fortified food as that is the only way to get enough vitamin B12 and DHA. Vitamin D will rise if you spend enough time in the sun, so you can use a brake time at your work and go out to enjoy the sun ( at least for a short time).
The Best Vegan Lunches For Work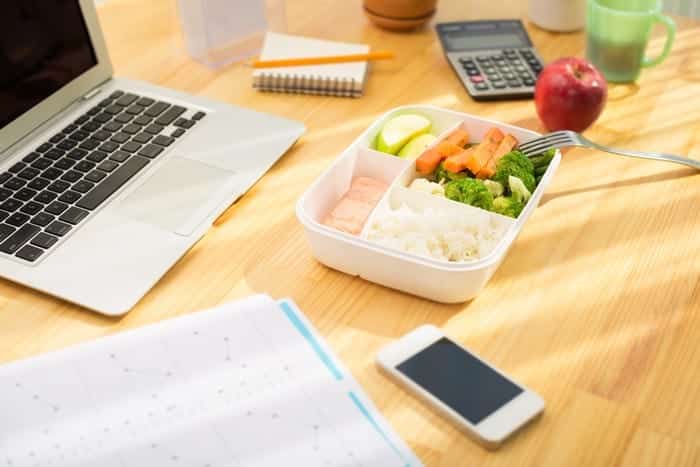 We have reached the most important part of this article. By now, you should have realized that eating proper food at your work is very important, even more so when you work hard and experience tiredness all the time. Our recipes are, therefore, simple and easy to make and take with you, but also rather healthy. Perhaps some of them will not be able to better your performance, but most will at least be tasteful and healthy and thus make you quite satisfied. In the end, happy employees are better workers!
Finally, let's look at some suggestions:
1. Quick And Easy Grain Bowl
You will need: a grain of choice (rice, quinoa,millet) , a cup of beans, a cup of chopped raw broccoli , a cup of chopped carrots, salt, spices of your choice.
How to prepare: Boil the grain you have chosen and mix it with all the other ingredients. Place the mixture into a microwave-safe container that has a lid. Put it in the microwave and set it on medium power. Let it cook for 60-90 seconds. Make sure to stir it when you take it out. Finally, enjoy this healthy vegan dish!
Extra Tips: This recipe is especially useful if you have a microwave at your work since then you can enjoy it while it is warm! You can combine this dish with fresh veggies as well, and we recommend tomatoes, olives, and onions!
2. Tasty Vegan Sandwiches
You will need: two slices of a whole-grained bread, 2 tablespoons of hummus, some chopped and sliced fresh vegetables of your choice- be creative!
How to prepare: This is obviously a very simple meal to prepare, and therefore it is a great choice when you are in a hurry. Simply spread the hummus on your bread, place the veggies of your choice on top of it, join the two slices together and you are done!
You can take these sandwiches wherever your work takes you as they are light, easy to pack, and can be eaten without any additional "equipment"- not even a fork!
3. Speedy Vegan Pasta
You will need: One package of whole wheat spaghetti, 3 tablespoons of olive oil, 2 tablespoons f minced garlic, 3 diced tomatoes, 1 chopped red onion, 1 chopped yellow bell pepper, 1 chopped red bell pepper, 1 cup of chopped zucchini, 1/2 cup of sliced fresh mushrooms, 2 tablespoons of balsamic vinegar and seasoning to your taste.
How to prepare: To be honest you will have to do a lot of chopping, slicing, and dicing, but you are sure to enjoy the end results. So, prepare all the ingredients. Cook the pasta in a slightly salted water for around 10 minutes. Place skillet over a medium heat and saute garlic until its brown mix in all the vegetables and stir until they become tender. (it will take only a few minutes) Add the balsamic vinegar and season to your taste. Join the veggies and spaghetti, and you are ready to take your meal to work- it is great even when it cools down!
Conclusion
We hope that you like our suggestions, we have tried them all and are more than satisfied- but that might be our taste! If you have any complaints, or you do not like any ingredients, you can simply replace them with something you do like. We have chosen these recipes due to the endless combinations you can make using the foundations provided. So feel free to experiment, be creative and alter anything you like or do not like! Just make sure you choose healthy ingredients that will deliver all the important nutrients you need while working!