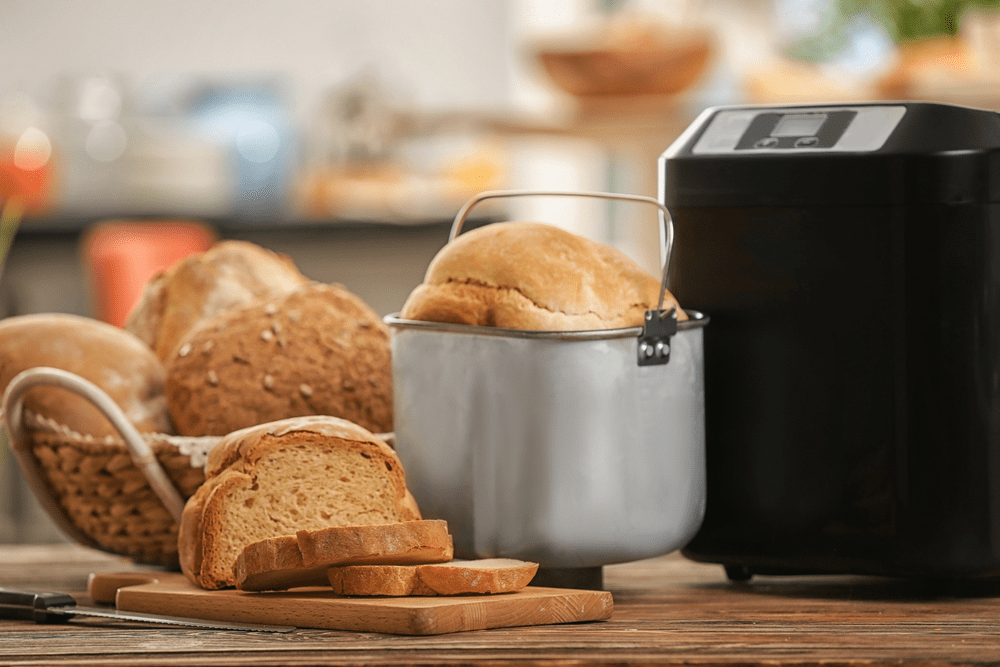 What's the most important kitchen appliance? Many people I know will say it's the refrigerator. Others will say it's the rice cooker. Those who love coffee will predictably say it's the coffee maker.
I guess it is really up to the person being asked. In my case, I love bread so don't be surprised if I say it's the bread maker.
Sure, anyone can buy a loaf of bread. But if you've baked homemade bread before, you would surely understand why you'd rather have it. For one, homemade bread is fresher. And it is certainly reassuring when you know the ingredients you used in each loaf.
Aside from baking homemade bread, there are several reasons why you would want to invest in a bread machine. One is that this kitchen appliance has become very "smart." Most bread makers have a time delay feature. You can measure out the ingredients in the evening then specify when you need the bread to be ready.
For instance, you can place the ingredients at 10 in the evening, set the timer for 9 hours and expect the loaf to be ready by 7 in the morning. Isn't that convenient and amazing?
Moreover, you don't need to be an expert baker to be able to bake bread. Although of course, it helps to understand some basic concepts which I will be sharing in this post. After that, I will pick three of the best bread machines that you can choose from just in case you are in the market for one.
How To Use And Choose The Best Bread Maker
How To Bake Bread With A Bread Machine
As I've mentioned earlier, baking bread isn't that hard. It is basically adding all the ingredients in the bread pan, which you will then place in the bread maker. You will then set the appropriate programme, leave the machine and let it do its job. It usually takes three to five hours for the baking process to end although you also have the option to prolong it so that you get freshly baked bread at your preferred time.
You will then remove the bread pan, place it on a wire rack to cool before cutting the bread into slices.
Sounds simple, right?
Common Bread Maker Mistakes To Avoid
However, there are some common mistakes that you would naturally want to avoid when baking bread with a bread maker such as:
1. Not Using Enough Yeast
Not using enough yeast will cause the bread not to rise properly. You should also avoid adding salt immediately after putting yeast because it will kill the latter.
2. Using Fresh Milk Instead Of Whole Milk Powder
If the recipe you are following calls for whole milk powder, don't use fresh milk as you could get confused by altering the amount of water. When the alteration goes wrong, you can expect your recipe to turn out really bad.
3. Not Reading The Recipe
This is very much self–explanatory, right?
Basic Bread Recipe
With a bread maker, you can make your own baked goodies right at the comfort of your home.
You can bake sourdough bread which is not only delicious but also a healthy choice especially for people with diabetes. Sourdough bread is known to lower blood sugar levels.
Or you can make sweet bread and sandwich bread with a bread maker machine.
How To Choose A Bread Maker
Although using a bread maker is pretty straightforward, choosing one isn't that easy. There are numerous bread makers available in the market which makes selecting just one model quite a task.
In choosing a bread maker, you should look at the following factors:
1. Delayed Timer
One really great feature that you should look for is the delayed timer. As I mentioned earlier, this function would let you choose the time when the bread becomes available.
2. Programmable Options
Programmable options will give you more control over the bread that you are to bake. For example, you can knead the dough without baking or bake the dough without kneading it. You can also set how you want the bread to rise or knead. There are also bread makers with pre-programmed settings like gluten-free and whole wheat, among others.
3. Noise Level
Because these machines mix and knead a dough, it's quite understandable why most bread makers are noisy. But the noise level would differ from one machine to another. In my observation, flimsy bread makers tend to make a lot of noise. These bread makers also tend to move around. Those made of stronger materials are sturdier and make less noise.
Top Three Bread Makers Available On The Market Today
#1 Oster ExpressBake Bread Machine (CKSTBRTW20)
This bread machine has a large capacity of up to two pounds loaf which makes it a good choice for large households. It can bake a 2-pound loaf very quickly when you activate or choose its ExpressBake cycle. Aside from that impressive feature, there are other exciting functions integrated into this machine.
For one, you can choose from any of the 12 bread and three crust settings that this machine offers. This gives you plenty of customization options for your bread.
You can rely on this machine in baking sandwiches. In fact, it can be argued that its yield of 2 pound loaf is good only for sandwich bread and garlic toast.
There's also a 13-hour delay feature on this machine. You can set up everything at night and then wake up to freshly baked bread in the morning thanks to this feature. And you can be guided by the large LCD display of this bread maker that shows each stage of the bread baking process.
You will also get everything you need with this bread maker, from the measuring cup to the spoon to the kneading paddle.
#2 Sunbeam 5891 2-Pound Programmable Breadmaker
Similar to the Oster breadmaker, this item from Sunbeam has a 2-pound loaf of bread capacity. It can also bake bread in less than an hour.
This is also a very user-friendly bread maker which novice bakers should consider getting. There is a functional push-button control panel from which you can choose the desired selections. It features a sweet bread cycle as well.
There are 12 cooking functions and 3 shade or crust selections that you can choose from. It also has a 13-hour delay timer.
This bread maker has a nice LED display that you can look into when operating it. The buttons are also large and easy to operate. It also comes with a plastic cup and a one-piece teaspoon/tablespoon combo for sugar and salt.
#3 Zojirushi BB-PAC20 Home Bakery Virtuoso Breadmaker
Like the two other bread makers, this Zojirushi Home Bakery Virtuoso breadmaker has a 2-pound loaf capacity. It also has the programme settings and functions that you would like in a modern bread maker.
This bread maker features 10 pre-programmed settings and three crust shades. You can also set it to delay the end of the baking process by 13 hours. It has two blades designed for a more thorough dough kneading. You can also see what's happening in the bread you are baking with the large viewing window.
It features a sourdough bread starter that you can use if you want to make delicious and healthy sourdough.
Its bread pan is removable and has a non-stick surface for easy cleaning. It's equally user friendly with an indicator light and a start/reset button.
This is a really good bread machine to get although it's a big bread maker which could be an issue if you have a small kitchen.
Conclusion
These three are excellent bread makers that you won't go wrong whichever you choose. But if you'll ask me, I will pick the Oster bread maker because one, it comes from a very reputable brand and two, it is a compact and features-rich bread maker.
How about you? Which do you think is the best in this list? Share us your thoughts by writing in the comments section below.