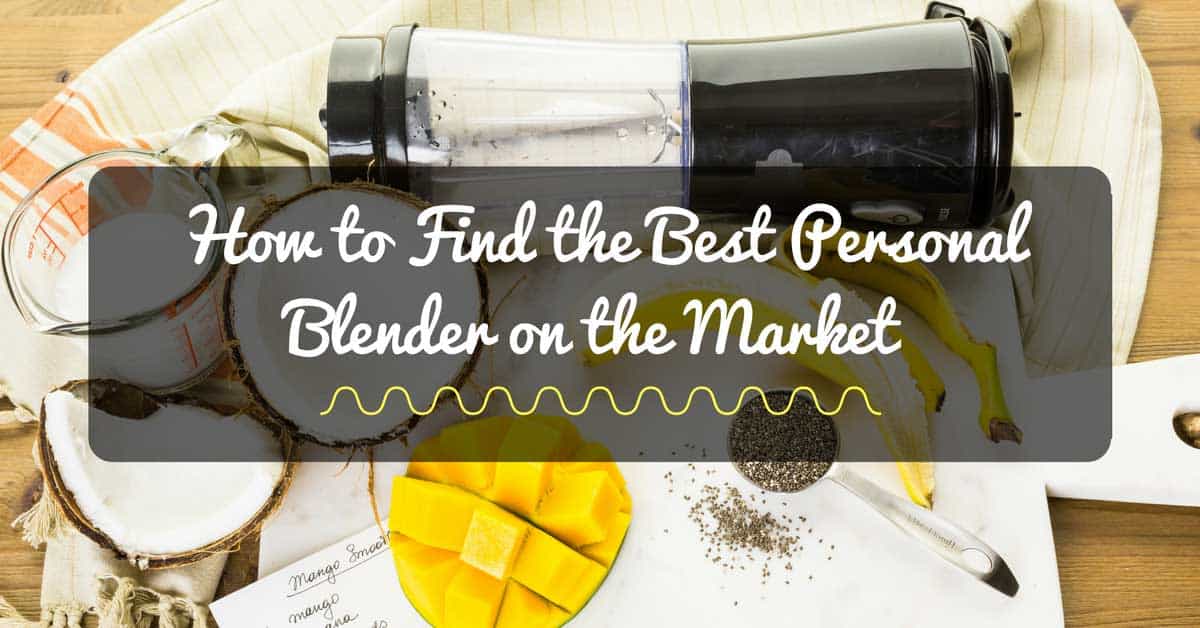 Healthy nutrition has always received a lot of public attention, but, as of recently, the trend got a tremendous traction. If you want to jump the speeding bandwagon, know this – you can't have a healthy nutrition without a good smoothie. You can try blending frozen fruit by the special blender. But you can't have a good smoothie without the best personal blender.
Although they were invented back in 1922, the rise of blenders is closely related to the post-WWII rise of affordable house appliances, and of course the introduction of ever-annoying TV "infomercials." Ever since, every decent manufacturer who tried to get a piece of cake we know as "small appliance market" gave us their own version of blender, some of which truly moved the evolutionary ball forward. That is why, although the main purpose of blenders remains the same, the list of things you have to pay attention to while buying constantly grows longer and longer.
How to Find the Best Personal Blender on the Market
What Kind of Blender Do You need?
For a start, the word "blender" is used by many different devices, which all excel in their own category, and underperform in others. Here are the two most notorious blender dilemmas first-time buyers have to face:
Smoothie Maker vs. Juicer
Juicers and traditional blenders are very similar, but there are a couple of differences. Most notably, the juicers extract the juice out of the fruits and veggies. The drink you get as a result is very thin and transparent. On the other hand, smoothie makers will simply shred the fruit or veggies and produce a much thicker and mushier mix. If you are buying your blender for the sake of juice, be sure to buy a juicer.
Blenders vs. Soup Makers
Some of the more durable blenders do a good job of blending the soup. When it comes to pouring soup in and out of the ball – not so much. Fortunately, there is an entire group of blenders called "soup makers" with a built-in heating element at the bottom. That means that you can boil and blend the soup in the same jug. Soup makers also do a decent job when it comes to smoothies.
The Quality of the Jar
Although plastic jars are the most widespread, don't let this fact deceive you – they are far from the best. Namely, plastic very quickly picks odors and is notoriously prone to scratching and cracking. Glass, on the other hand, is much better-looking and easier to clean, but these benefits come at a price. In addition, glass is much heavier than plastic. Using the full jar is known to be quite tedious. The solution to this dilemma can be found in high-quality plastic that combines the best of both worlds.
Extra Blending Cups
Some of the blenders come packed with one or more extra blending cups that can be used instead of regular jars. That means that you can blend your smoothie and take it to the gym, all in one cup. No spilling and no mess. If you are looking for an upgrade that will justify a slight price bump, you would be hard-pressed to find better than this one.
Dishwasher-Friendly Parts
Blenders' primary purpose is shredding raw food. It should be obvious that the appliance has to be cleaned after each use. With the things as they are, it is highly preferable that blender at least allows fast and effortless cleaning. The feature you should look for is a set of removable parts that can be washed in a dishwasher.
Grinding Option
Some of the more pristine blenders come packed with the additional jar and extra blades made specifically for grinding dry groceries like coffee beans and nuts. Unlike extra blending cups, the value of this upgrade depends exclusively on the frequency in which you use the mentioned groceries.
Different Speed Settings
The lack of different blades can be partially addressed with different speed settings. Most of the currently available personal blenders have either one speed or a pulse rotation. Still, it's not impossible to find models that will provide you with a different setting for any activity ranging from making smoothies to ice crushing.
Additional Considerations
· How tight is the lid? – Sometimes, even the most expensive blenders end up with loose lids that will create a mess every time you use them.
· How stable is the base? – Although they are not amongst the jumpiest appliances out there, blenders produce a solid amount of vibration. A wide, solid base with rubberized bottom will make sure that they stay in place while working.
· Does it have a pour spout? – If it does, adding new ingredients into the mix will be much easier.
· What about warranty? – Traditionally, small appliances are very perishable. The longer warranty you get, the better.
Now let's take a look at some of the best-rated blenders on the market and see how they fare in regards to the standards I've set above.
5 Best Personal Blender Reviews​
1. Hamilton Beach Personal Single Serve Blender with Travel Lid
Highlights
· Suitable for smoothies, icy drinks, and shakes
· One-touch blending
· Stainless steel blades
· Cord bearing that goes around the base of the blender
· Jar and lid are dishwasher-safe
· 175-watt motor
Overview
Hamilton Beach Single Serve Blender is certainly not equipped to impress. When you open the package, you will get only the base, a 14-ounce container, and one on-the-go lid. However, if you take a look past the lackluster package, you will see one very reliable, decent-looking, lightweight and sleek blender that can be easily stored or taken on a trip.
Using the blender is a very straightforward experience – you only have to press the "Pulse" button, and the device will start doing its job without too much struggling. You will have to stop the blending and manually shake the mix from time to time, though. However, at this price point, such behavior is to be expected.
Unfortunately, the blender comes packed with only one jar, and that jar is not so big to begin with (12 ounces). If you are making a smoothie for a larger group, you will have to wash the jar after each serving. The quality of the plastic is not that great, so keep the soup out of the blender.
Affordable
Good-looking
Makes very little noise
Easy to clean
Low quality plastic that prevents you from blending soups
Very limited warranty (only one year)
You can make servings only up to 12 ounces
Highlights
· 12-piece set
· Two stainless steel blades meant for blending and grinding
· The package includes three cups (2 x 21.6 ounces and 1 x 13.3 ounces) and four lids (two reusable lids and two shaker lids)
· One-year limited warranty
Overview
Unlike the previous mention, BELLA Personal Size Rocket Blender comes in a very generous package. Doing that at a very affordable price point represents a huge win for this product. The very product isn't bad either. Build quality is very solid, and the blender is very easy to disassemble and clean.
One of this product's greatest assets is, of course, its versatility. With tree cups, two different blades and two different types of lids, you won't have any problems using this blender in most of the situations you will face along the way. The quality of the plastic is great, so you can use the device to blend the hot soups as well.
However, the device is best when used in short bursts. Anything beyond one minute will cause a significant performance drop, and possibly cause a malfunction. The limited one-year warranty doesn't help the situation. In addition, if you are planning to use this blender to crush the ice, you should probably skip it.
Great value for the money
A device that can replace several kitchen appliances
Easy to clean
Some of the users have been reporting that the blender is prone to leaking
Not ideal for frozen drinks
Durability isn't one of the blenders greatest assets
Highlights
· The stainless steel FusionBlade capable of crushing ice
· The 275-watt motor
· Two blending jars (both of them have their travel, dishwasher-safe lids)
· On/Off button (you don't have to keep the button pressed while blending)
· Two-year limited warranty
Overview
Coming equipped with a reasonably powerful 275-watt motor and stainless steel blade capable of crushing ice on the first glance, PB1002R looks like it means business. In addition, although the actual performance is not as stellar as I hoped for, I can easily say that we are talking about a very solid and good-looking home blender here.
The package is nowhere near the best on the market, but it doesn't miss anything of importance. Two 20-ounce jars with tight travel lids are made out of durable plastic and can handle both ice and hot liquids. It is also good to know that using the device is very straightforward. Once you press the On/Off button, your involvement will be over.
On the bad side, the PB1002R can truly handle ice, but that doesn't mean that it excels in it. The jars are too narrow, so you will have to shake the liquid to get everything evenly blended more often than not. Also, the blender is not amongst the most silent on the market.
Reasonably priced and reasonably powerful
The jars fit most of the glass holders perfectly
Very solid build
Although blade can handle ice, the device still feels slightly underpowered
The device is little loud
Jars are too tall for seamless blending
Highlights
· The blending jar comes with a good-looking travel lid
· The powerful 350-watt motor
· Stainless steel, ice-crushing blade
· Four reusable silicone straws
· All parts are dishwasher-safe
Overview
Like any other smaller smoothie maker, MyBlend Pro can't exactly compete with larger, full-blown blenders when it comes to raw power. However, with the motor of 350 watts, it is easily one of the most powerful options in the given price range.
The device looks and feels great, and the very solid body makes sure that it will sit well on any table no matter how long you use it. MyBlend Pro comes packed with only one 20-ounce jar, but to be quite honest it's an excellent jar. By the words of the manufacturer, the double-layered design will keep your drink up to 30% colder than regular plastic bottles.
Unfortunately, several users have been reporting that their unit broke after only a few days of use. It is possible that they simply stumbled upon a faulty series, bur for a device so powerful that costs this much, this should be taken as a sign of concern.
As long as you don't confuse it with a full-blown blender, the device performs well
It looks great, and the build quality is not that bad either
Excellent jar/bottle
A very weak package
The device is rather loud
Too many users have been complaining about the early malfunctions
Highlights
· The blender comes packed with two 16-ounce and their lids
· The jugs are polycarbonate, and, by the words of the manufacturer, "virtually impossible to destroy."
· Reasonably powerful 200-watt motor
· Pulsing or continuous rotation
· Portable design and the weight of only three pounds
· 1-year warranty
Overview
If we judged PB-150 only by the ability to carry the weight of the famous brand, I would say that the blender succeeds in its job. However, the thing that plagues this neat appliance is the value for the substantial price Tibest wants you to pay for it.
For a start, the package contains two blend-n-serve cups. Their size of 16 ounces is nothing to write home about, but their quality is excellent. Even at this price point, you would be hard-pressed to find a better material than polycarbonate. Tribest likes to boasts how the blade can handle anything from ice to coffee, but that doesn't change the fact that you get only one blade.
The 200-watt motor is ok. The blending mechanism makes the device seem more powerful that it is, but the performance is on par with the other entries on the list. Overall, the blender behaves well, but it's overpriced for what it has to offer.
Solid design
The polycarbonate jars/cups are of excellent quality
The blender performs well
The device is way too overpriced
Cups are not that big, and you only get one blade
Conclusion & My Recommendation
Choosing which one of these products is the best is very hard because almost all of them fall into the same trap of trying too hard to impress the buyers and position themselves as a seamless replacement for full-blown and much more power blenders out of this price range.
BELLA Personal Size Rocket Blender seems to understand its position the best. It's a small, portable device packed with many valuable goodies that can handle virtually anything except too much ice. That is what the personal blenders are all about, and it's nearly impossible to find the better package for the money.