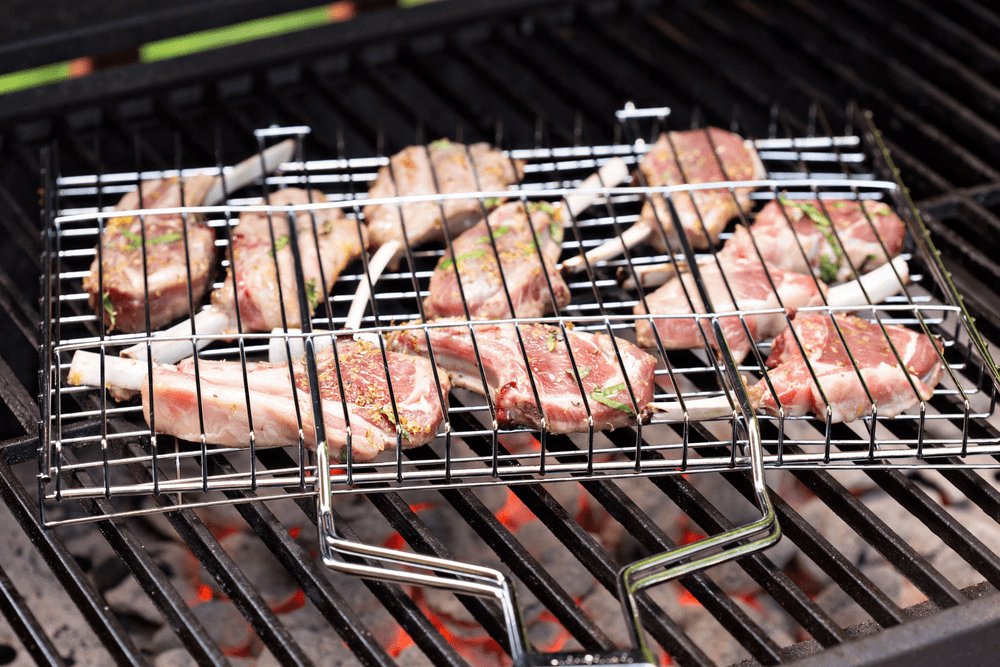 Having a BBQ grilling party is something we usually do every summer. It has become a way for my family and relatives to bond with each other.
However, grilling can be quite a challenge at times. The pork or chicken may stick in the grates which could ruin what could have been a great dish. Vegetables like zucchini, mushrooms and broccoli and seafood like shrimps can fall off the grate and straight into the fire.
That's why I highly recommend the use of grill baskets to families and individuals who like to grill their foods. The best grill basket can make grilling quick and hassle-free. Moreover, the food you are to grill will taste good when you put them in a grill basket. The best grill basket is made from a non-stick material that won't affect the flavor of the food to be cooked.
Grill Food Easily And Quickly With The Best Grill Basket
What To Look For In A Grill Basket?
There are numerous grill baskets sold online and in brick and mortar stores. Most of them look the same, so there's the temptation to buy the first grill basket that you can find.
But there are certain things you should be looking at when choosing a grill basket, such as:
1. Material
A good quality grill basket can be made of materials like aluminum or stainless steel. Both metals can make for an excellent grill basket because of their durability. Grill baskets made of said materials won't go rusty, twist or warp after some time.
In case you are leaning towards a basket that has a non-stick finish, I suggest you get a product that is FDA-approved so that you won't have to worry about health concerns.
2. Size
It's really up to you to decide the right size of grill basket. It should be big enough to hold a good number of food items but compact enough to fit on your grill. It's best you measure your grill first before you buy a grill basket.
3. Handles
Simply put, the grill basket should have handles that would make it easy for you to lift and move the basket. You might want to opt for those with removable handles which can make it easier for you to close the lid on the grill with the handle removed. Keep in mind, though, that some grill basket manufacturers don't mention the measurement of the handles.
4. Holes
The holes should be large enough for the heat to get through and the marinade to drain. The holes shouldn't be too big so that you can toss veggies or even shrimps without losing smaller pieces through the openings.
5. Design
I would recommend a grill basket without sharp edges, especially if you intend to wash it by hand. Burrs or sharp edges can cut your fingertips if you are not careful. They can also make cleaning of the unit difficult.
6. Cleaning
Speaking of cleaning, you would want a grill basket that is easy to use. Most grill baskets made of stainless steel are dishwasher safe which you would appreciate if you are always pressed for time. In case the unit you are getting has a non-stick surface, I suggest you wash it by hand as the non-stick surface can easily be damaged by dishwashers.
Now that you have more or less an idea on what to look for in a grill basket, I will present five highly recommended grill baskets that you might want to get.
Top Best Grill Baskets Available On The Market Today
Grill Basket With No Handle (Suitable For Grilling Vegetables)
#1 Weber Style Pro Grade Vegetable Basket 6434
This is a grill basket made of stainless steel. One of the first things you will notice about this grill basket is its high sides. Thanks to that characteristic, you can toss around your veggies as you cook them.
The holes are also big enough for the foods to get in direct contact with the heat but not too big for the food to fall through them. It is also easy to clean although be warned that it will turn black eventually.
Measuring 13.8 inches long, 11.8 inches wide and 2.5 inches tall, this grill basket can fit most grills. It doesn't have a non-stick surface, but you can season it so that the foods won't stick to it.
#2 Grillux Stainless Steel Vegetable Grill Basket
This is the kind of grill basket that you can use for grilling veggie and small foods like mushrooms, onions, and shrimps. It is made of stainless steel so you can be assured of its durability. It measures 13 inches long, 12 inches wide and 2.25 inches tall. It fits most grills.
It has curved handles designed for ease in carriage and transport. It is also versatile as you can use it as a wok pan for stir frying chicken, beef or pork.
This grill basket has raised edges that prevent the food from escaping. I also like the holes of the grill basket. These holes are slightly bigger than a pencil eraser, so smoke and heat can pass through without the food escaping.
Grill Basket With Long Handle
#3 Cuisinart Nonstick Grilling Basket CNTB-422
The basket itself measures 9 inches long, 11.5 inches wide and 1.75 inches. It has a large surface that would let you grill a good amount of foods like fish, seafood, and vegetables.
The basket is also adjustable so it can accommodate all sorts and sizes of food. It's also easy to use. Simply put the food to be grilled between the two parts of the basket and close them. The foods will stay in place even if you shake the basket.
The handle is about 2 feet long. It is heat resistant too. Thus, you should have an easy time grilling both sides of food when you use this grilling basket. The handle has a non-stick coating that makes clean-up a breeze.
#4 Mr. Bar B Q Deluxe Non Stick Flexible Grilling Basket
This grill basket measures 16.3 inches long, 23.9 inches wide and 1.2 inches tall. It has a very large surface that enables it to grill different foods ranging from chicken, pork, burgers and even veggies like hot peppers.
Just to give you an idea on how many foods you can grill with this basket, I was once able to cook six hamburgers at the same time using this grill tray.
You will also love the spring action as it can hold differently sized and shaped foods without squishing them. The handle does not get too hot although I would still recommend that you use a pot holder.
While the basket won't fit inside a dishwasher because of its size, it is still easy to clean. You can clean up the grids with a quick soak in warm and soapy water.
Grill Basket With Removable Handle
#5 Outset 76182 Chef's Jumbo Outdoor Grill Basket and Skillet with Removable Handles
This is bigger than the other grill basket with removable handles. It measures 23.5 inches long, 12 inches wide and 4.25 inches tall. With its size, you can grill up to six racks of ribs simultaneously in this grill basket.
The spacing between the slots is perfect for grilling ribs. It is easy for ribs to slide in and out of this grill basket. Plus, the grill basket feels very stable even when it is packed with foods to be grilled.
It is also easy to clean. Simply wipe off the crud from the non-stick surface using a sponge.
#6 WolfWise Portable Stainless Steel Barbecue BBQ Grilling Basket Removable Handle
This grill basket is made of stainless steel. It is durable and easy to clean as it is dishwasher safe. The detachable handle measures 5.9 inches. It is smartly designed to provide safe and comfortable grip.
You will be impressed with the foldable design and grid gap of this grill basket. The folding design will let you lock the foods to be grilled in place. It also makes flipping very easy. Meanwhile, the grid gaps are of the right size. Small pieces of foods won't fall through it.
This grill basket has a cooking surface of 11.8 inches long, 9.4 inches wide and 2.4 inches deep. It is designed to grill foods for a small family. You can use it with almost all types of grills.
Conclusion
Before I end, let me share my favorites among these grill baskets.
The Weber Style Pro Grade Vegetable Basket 6434 is my choice for grill basket without a handle. It is durable and well designed. The holes are of the right size, too. The non-stick surface also makes cleaning a breeze.
The Cuisinart CNTB-422 is my choice for grill basket with long handle. I like the length of the handle and the non-stick coating of the handle that makes clean-up easy.
For grill baskets with removable grill, I think the Outset 76182 is the better model. It is well made and has a generous grilling surface.