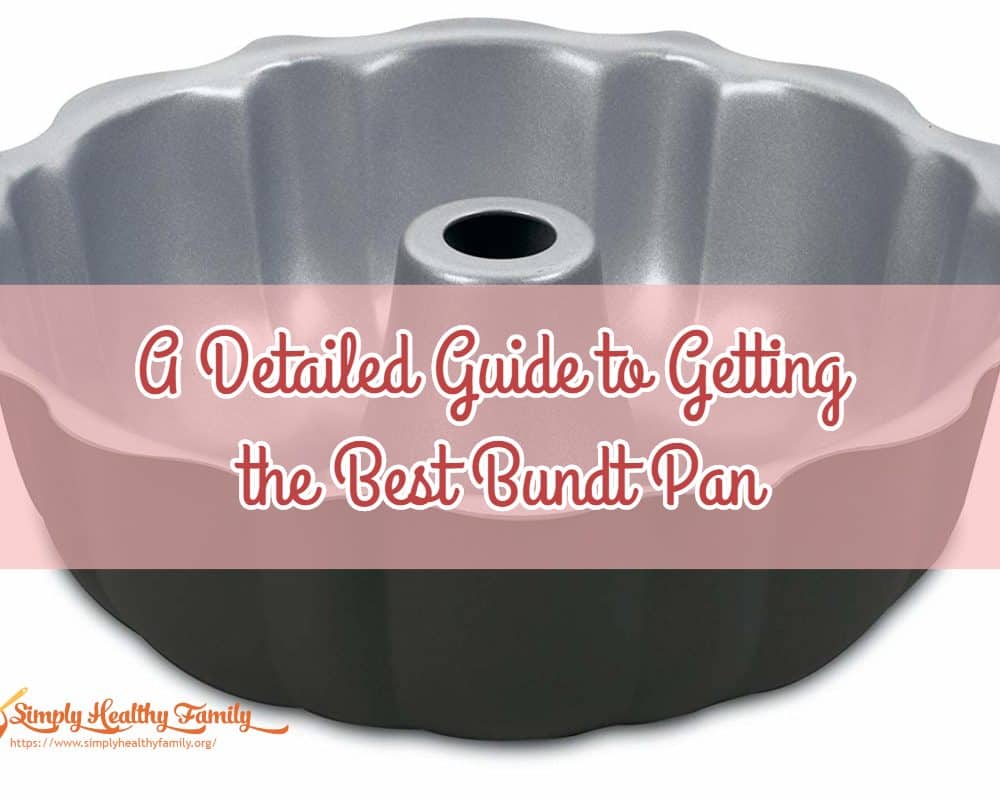 Eating blueberry and oat loaf cake too much and you want to try a new thing? Ready to bake your first Bundt cake? In order to create the perfect cake, you have to have patience, determination, the finest ingredients, a delicious recipe, and the help of the best Bundt pan. Have you ever wondered how this seeming novelty item has become an important part of our culture of baking?
The history of the Bundt pan goes way back in 1950 when a young couple invented this unique contraption. A participant in a baking contest made it popular around the 1960s, and it became a lightweight alternative to the heavy cast iron mold used to make the kugelhopf cake which originated in central Europe. It has this round, tube-shaped loaf that is hollow in the center. The body has patterns around it that cause the finished product to be all fluffy and beautiful.
The Bundt pans of today, although more diverse in design and sizes, have stuck to the principles of the original design. And these principles are going to be our guide in choosing the best Bundt pan. The principles are simple. The Bundt pan should be sturdy enough not to warp or dent despite numerous uses, it should be large enough to be filled with dough that can feed a large number of people, and it should be able to create a perfectly browned and designed cake.
A Detailed Guide to Getting the Best Bundt Pan
Things to consider in getting a Bundt pan
Now, these are the things that you need to look out for when choosing your very own Bundt pan.
Material
The material always matters in cookware and bakeware. The Bundt pan is no exception. The outcome of the Bundt cake is equally dependent on the equipment used with the ingredients used in baking it.
Glass and ceramic pans are known for its safe and effective non-stick properties. They can efficiently retain and hold the figure the cake without spilling and deformities. These materials are also immune to warping and bending, although prone to breakage and chipping upon impact. Another setback with these materials is that they are heavier than metal and silicone Bundt pans.
Silicone Bundt pans are also available in the market, but experts are against using it. This material, although light, immune to dents and warps, and has an excellent nonstick capability, in notorious for not being able to hold up hefty Bundt batter due to the softness and instability of its texture.
Metal Bundt pans are the top choice of Bundt cake enthusiasts and experts. Aluminum and carbon steel, in particular, have high heat conductivity and is best in distributing heat evenly, making it perfect for every batch. Both materials are sturdy enough to hold hefty batches of dough and avoid warps and dents.
Non-stick coating
Almost every Bundt pan available today claims to have a nonstick coating. The most important thing to know if the non-stick coating is PTFE and PFOA free. This is to ensure that the people eating the cake will not be eating toxic chemicals. Another important thing to know is how long is that coating going to last. You have to know if it will chip or peel easily. Since no company will admit to that, browse through the consumer review section to know what customers are honestly feeling about its non-stick coating.
Finally, you have to understand that no matter how effective the nonstick coating is, it is imperative to apply (vegan) butter or a nonstick spray. Use a greasing brush for those caveats and creases of the design to make sure that you got all the surfaces covered.
Color
The color of the pan affects the outcome of the Bundt cake. To have a perfect cake, you have to prefer a pan that has a lighter color. Dark colored pans absorb and radiate more heat, thus making a dry overly browned crust while the inside of the cake has not cooked properly yet. In order to achieve a balanced cake which is cooked on the inside and the outside, use a pan with a light color.
Size
If you are just a beginner or is not required to make cakes with specific sizes, go with the standard 10 to 12-cup pan. Making a smaller cake using this size is still feasible. However, if you are ambitioning for a larger cake, prefer to buy a pan that is taller instead of wider. A wider baking pan will result to squashed, stout cakes, unlike tall pans that create architecturally sound cakes.
Design
You might be tempted to get a pan that has detailed patterns, with the swirls and curls and artistic graffiti. But if I were you, I would go for the basic patterns, even resorting to the original design of just round fluff. It is easier to make, easy to glaze, beautiful by itself but also great for adding frostings and icings. Leave the expert designs for later, when you have already mastered the art of making a Bundt cake.
---
Best Bundt pan available today
Here is our list of the best Bundt pan available today.
The touch and feel of this Bundt pan are solid that you would know that this is built with high-grade material. The durable cast aluminum ensures that your cake will not sag or lose shape, at the same time easy and light to the touch. Due to its size of 10-15 cups, it is versatile enough to accommodate to today's various Bundt cake recipes. The reflective silver color is helpful in regulating the brownness of the cake and allowing the even browning all throughout. You don't have to worry about residue sticking to the pan because of the non-stick feature.
It is made from durable cast aluminum that holds up the dough and does not easily warp or dent.
The non-stick feature allows easy food release.
A silver exterior reflects heat and regulates browning.
It has a narrow base, extra large tube, and straight sides which are versatile enough to accommodate most of the today's mixes and recipes.
The finishing might be a little rough in some units.
A part of the Baker's Secret Essentials line, this Bundt pan is ready to deliver. Its steel body is designed to withstand hefty doughs. The interior has a non-stick coating for quick food release and easy cleaning. All of the items in the Essential line are dishwasher and metal utensil safe.
The 0.5 steel construction is tough enough to hold the hefty dough.
It has a non-stick coating for easy food release and easy cleaning.
It is dishwasher safe and safe to use with metal utensils.
It might warp or dent if you don't use it as intended.
You will know that this bakeware is of a high-grade craftsmanship just by the look and feel of the texture. And when you use it, you will understand why Cuisinart is trusted by bakers worldwide. The heavy gauge aluminized steel holds the dough firmly and doesn't warp in high heat. It also cooks the cake evenly. The Whitford Xylan non-stick surface is a very reliable tool for easy food release. The unlimited lifetime warranty will let you know that Cuisinart can definitely stand by its products.
The body made of heavy gauge aluminized steel, good for holding dough and not warping in high heat.
Both the exterior and interior is coated by Whitford Xylan nonstick substance for easy food release.
The 9 ½ diameter has enough provision for beautiful designs.
You are covered with an unlimited lifetime warranty.
The pan has a seam on the edge that has the tendency to leak.
The pan feels a little bit weighty due to the fact that it is made of heavy gauge metal. That heaviness assures you that this pan is tough enough not to warp in extreme temperatures. The measurements embossed on the sides of the pan are accurate and will never get erased. What comes off easily though, is food and residue thanks to its effective nonstick coating.
The heavy gauge metal construction of this pan makes it tough enough not to warp in high temperatures.
The non-stick coating makes it easy to clean and release food.
The embossed measurements are accurate and will help you bake the perfect cake.
The pan has easy grip edges that can act as handles for easy transport.
The pan is shallow and the ridges are not as protruded as a typical Bundt pan.
Make baking fun and pretty with a brightly colored Bundt pan from Nordic. The available colors of red, green, or aqua are infused in the aluminum constructed pan which beautiful and sturdy as well. There is a non-stick coating that aids in the easy removal of food and easy. You are also protected by a ten-year warranty.
It comes in red, green, and aqua, colors that will lighten your day.
The pan is made of aluminum which doesn't rust and provides even heating.
A non-stick coating helps with easy food release and easy cleaning.
You are covered with a 10-year warranty.
The non-stick coating has the tendency to peel off due to misuse.
The aluminum body is unable to hold a hefty batch and warps at high temperature.
---
Conclusion